Liverpool are finalising a move for Thiago Alcantara from Bayern Munich for just €30m in one of the biggest transfers of the summer window, though the Spain midfielder's wages will add up to a sizeable investment for the Reds once his four-year deal on Merseyside expires. Now attention must turn to freshening up a group in its absolute prime – if not slightly on the way down.
That means finding a good landing spot for Rhian Brewster on loan, as their talented young striker needs to develop, rather than sit and wait behind Jurgen Klopp's deadly front three. Could a move to Sheffield United suit everybody involved? Then there's Ismaila Sarr, a big-money deal with high upside and more in line with acquiring Sadio Mane before he exploded to become the superstar is now is.
The Reds always remain active in the market and now, with Thiago, appear primed to plot their dominance for years to come. Here are the latest stories surrounding Anfield as the Reds look to build on last season's success.
1600414900
REDS EYE MENDES IN GUNNERS BATTLE
Liverpool will compete with Arsenal to sign Sporting wonderkid Nuno Mendes.
A Bola claim both sides will have to pay the €45 million (£41m) release clause.
The 18-year-old has flashed already at left-back for the Portuguese giants.
Jack Rathborn18 September 2020 08:41
1600358020
With Thiago Alcantara about to complete his move to Liverpool, have a read this interview he did with Miguel Delaney:
Michael Jones17 September 2020 16:53
1600354225
HODGSON OPENS DOOR FOR CLYNE
Nathaniel Clyne left Liverpool as a free agent in July and will begin training with Crystal Palace in the coming days to see if he can force his way into a contract.
A goal that isn't impossible according to Palace manager Roy Hodgson who said:
Michael Jones17 September 2020 15:50
1600352621
THIAGO DEAL CLOSE
The big news concerning Liverpool transfers is the incoming of Thiago Alcantara from Bayern Munich. Liverpool are yet to confirm the signing but Bayern Munich have already bid farewell to the midfielder. For all the details of the move, have a read of this:
Michael Jones17 September 2020 15:23
1600350520
ROBERTSON ON THIAGO
Liverpool left-back Andy Robertson has given his thoughts on Thiago Alcantara's probable signing. He remained elusive but it was pretty clear that he thinks Thiago would be a great addition to the squad. He told Sky Sports:
Michael Jones17 September 2020 14:47
1600349543
Michael Jones17 September 2020 14:32
1600348633
KLOPP KEEPING QUIET
Jurgen Klopp has refused to be brought into the conversation about Thiago Alcantara's move to Anfield despite Bayern Munich manager, Hansi Flick, confirming the midfielder is leaving.
Klopp told Sky Sports: "Nothing, I'll say nothing. We're are not part of the speculations, we try never to be and that's it pretty much. When we have something to announce you are the first I will call."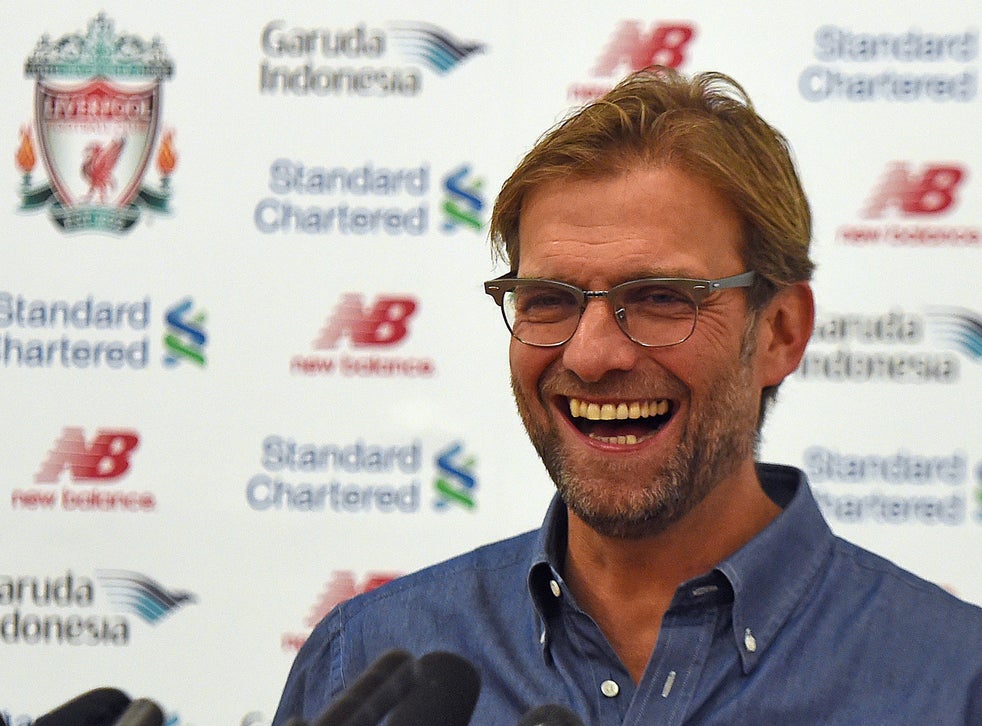 Michael Jones17 September 2020 14:17
1600347775
COULD THIAGO'S SIGNING SEE RHIAN BREWSTER LEAVE?
As a loose rule, Jurgen Klopp only spends what he can bring in.
Is it a coincidence then that Rhian Brewster is reportedly moving to Sheffield United for anything between £20-25 million just as Liverpool have signed Thiago Alcantara for a similar amount?
Rumours about Brewster leaving are still just that, but it seems likely that the 20-year-old could be leaving Anfield before the end of the transfer window.
A possible Barcelona move for Gini Wijnaldum seems to have cooled so a deal for Brewster may be the best way to fund Thiago's deal.
The 29-year-old spent seven years at Bayern Munich where he played 235 games and scored 31 goals for the club. He also won 16 trophies including seven Bundesliga titles and the 2019/20 Champions League.
Brewster, meanwhile, spent last season on loan at Swansea and would have to compete with Sadio Mane, Roberto Firmino and Mo Salah for a place in Liverpool's starting line up so a move away from Liverpool would help his development.
Michael Jones17 September 2020 14:02
1600346344
'THIAGO, WORLD CLASS' SAYS NEVILLE
Gary Neville has backed the signing of Thiago Alcantara to propel Liverpool to the next level as the 29-year-old would reignite the Reds midfield.
According to Neville, Thiago's signing would send a message to the rest of the squad that Liverpool want to continue their dominance.
He told Sky Sports: "It wouldn't be ridiculous to suggest there will be a slight drop off, if they don't somehow stimulate that squad by doing something,
"It is a huge emotional drain on the group of players for three years. To ask them to go again and achieve that same standard would be a superhuman effort
"Getting them to do the same without amendment to the squad to give them that lift again, that is where signing Thiago would give the big one for Liverpool – to send a message to the rest of the players that we've signed one of the best players in the world in that position.
"He is world class and would give them a world-class presence in an area of the field where they don't have a world-class presence. They need that impetus to stay where they are.
"I could be wrong – they could deliver exactly what they did before but looking at history it doesn't work like that usually."
Michael Jones17 September 2020 13:39
1600345667
BAYERN CONGRATULATE LIVERPOOL OVER THIAGO SIGNING
Hansi Flick has congratulated Liverpool and Jurgen Klopp over the signing of Thiago Alcantara. He says it was emotional to bid farewell to the 29-year-old who spent the last seven years at the club and he congratulated Liverpool on signing a great player and a great person. He said:
Michael Jones17 September 2020 13:27