On Saturday 4 July the government is taking the biggest lockdown-easing steps yet: pubs, restaurants, hairdressers, barbers, art galleries, museums and more, will be allowed to open in England for the first time in more than 100 days.
There are a few places still outright banned from opening – nightclubs, casinos, indoor gyms, theatres, swimming pools and spas – but overall life will feel a little more normal. This is despite ongoing protests from some scientific experts over moving to the next phase of lifting.
In a bid to keep us as safe as possible all of these environments will have new rules – things like social distancing, booking ahead, and wearing face coverings. It will take some time to adjust to the new way of doing things.
Here, The Independent examines the new rules and asks experts just how safe these places are – and what you can do to mitigate risk. Consider this your ultimate guide to easing yourself safely back into society and out of lockdown.
****
What do the government rules say?
All pubs will have to comply with the following rules in order to open: the business has to be self-contained and accessible from outside (rather than through another building), it must reconfigure all tables to maintain social distancing, identify potential pinch points and busy areas, provide clear signs on social distancing, put distancing markings on the floor, encourage customers to use hand sanitiser when entering the pub, and make toilet queues safe.
The government says pubs might want to consider one-way systems around the bar, and use of contactless ordering from tables (rather than going up yourself) where possible. Publicans should also assign a single staff member per party and stop customers returning empty glasses to the bar (even if you think you're being helpful).
It is against the law to gather in groups of more than 30 people, but the Department for Business, Energy and Industrial Strategy (BEIS) has said pubs are exempt from this because they are following Covid-secure guidelines. Although patrons may still be required to book online beforehand to manage numbers. Pubs will also be required to keep a record of customers for a period of 21 days, in order to assist NHS Test and Trace efforts if needed to identify clusters or outbreaks.
The government has also warned pubs that they shouldn't do anything which might cause people to raise their voices or shout. So although they are allowed to show football and live sport, many might choose not to, to keep rowdiness to a minimum. Venues are also not permitted to host live performances "because of the potential for increased risk of transmission, particularly from aerosol transmission", it says.
How safe are pubs?
Dr Simon Clarke, professor in microbiology at University of Reading, tells The Independent that pubs are an "average risk" on the spectrum of places where people are going to mix. "I wouldn't call [pubs] a low-risk environment but it is lower [than others]. I don't believe the people who go to pubs are more or less likely to be carrying the virus than anyone in the general population. It ought to be remembered that now most cases are in healthcare settings, not in the community."
Dr Robert Dingwall, professor of sociology at Nottingham Trent University and on the Department of Health's Nervtag (New and Emerging Respiratory Virus Threats Group), which advises the chief medical officer on the threat posed by new viruses, agrees: "It is easy to exaggerate risk in a pub environment when you think about it getting crowded but actually that misunderstands behaviour because we aren't all just mingling with random people, we are going to remain in our bubble or stay close to the people we know well."
Dr Dingwall says those at risk in a pub setting are more likely to be staff than customers. "Because they are dealing with representatives from all the different bubbles, but that [risk] should be mitigated by the use of Perspex screens."
But Dr Robert White, lecturer in virology at Imperial College London, says the risk in pubs all depends on the behaviour within them: "[Risk] all depends on what promotes shedding of virus. If it is any breathing, then the problem is simply one of person density. If effective shedding requires talking, shouting, singing then quiet pubs are safe; football pubs are not."
What can you do to keep yourself safe?
Only meet one other household and book ahead of time. You are still only allowed to gather indoors in groups of up to two households. Outdoor gatherings should also only be with two households or a maximum six people from any number of households.

Drink in the pub garden. Dr Clarke also says it would also be better to drink in the pub garden than inside – "the risk is always lower outdoors than indoors" – he explains. And Dr Dingwall agrees: "I don't think it is seriously contested now that outdoor environments do not present any risk worth bothering about. So sit in a garden."

Avoid using the toilet if you can. Dr Clarke says there is quite a high risk from using public toilets. "When you've got to go you've got to (and some people have medical requirements that require it) but I would say avoid where you can. They have high footfall, are dark and cramped. There is also a possibility of faecal or urine Covid-spread [a Lancet study in February explored this]. If you use one try not to touch anything and wash your hands!"

Don't shout or cheer. Pubs have been warned not to have loud music or TV that will encourage patrons to raise their voices above normal conversation level, but remember this when you're over-excited, watching the football and have had a few pints.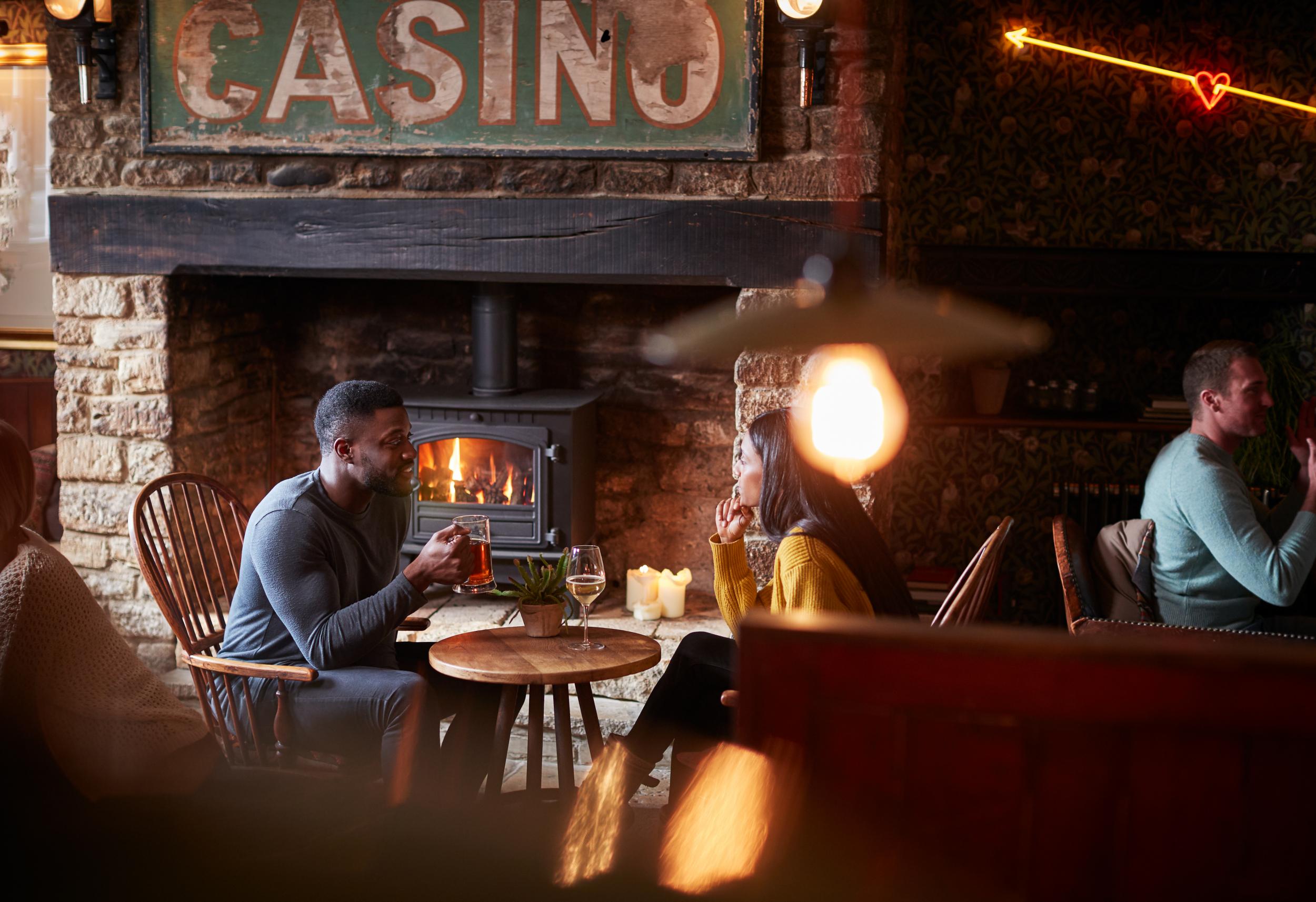 What do the government rules say?
From 4 July restaurants and cafes can reopen provided they follow similar rules to pubs. These include compulsory table service, assigning a single member of staff per table and encouraging use of contactless ordering from tables.
Restaurants must ensure staff keep a two metre distance where possible (or one metre "with risk mitigation" where two metres is not viable, is acceptable) from customers when taking orders and if you cannot do at-table service then ensure staff stand behind a screen or table to interact with customers. Nandos may also look a bit different as the rules say restaurants should minimise all customer self-service of food or cutlery.
And no more use of the communal ketchup bottle: provide only disposable condiments or cleaning non- disposable condiment containers after each use.
Restaurants will also be required to keep a temporary record of customers and visitors for a period of 21 days, in order to assist NHS Test and Trace efforts. This should be much easier than for pubs, as restaurants are more likely to have booking systems already in place.
How safe are restaurants?
Food is probably safer than a drink because "food is normally hot – been cooked and then maybe sat under a heat lamp – which is more likely to kill the virus than a room temperature beer served in a chilled glass". "That is more likely to carry contamination than food," explains Dr Clarke, but overall "the risk of a restaurant or cafe in general is very similar to a pub".
Dr Dingwall agrees: "Cutlery and plates are going through dishwashers and being sterilised at very high temperatures so are likely to be fine."
What can you do to keep yourself safe?
Keep your booking small. Although you are permitted to gather indoors with people outside of your household, there can only be a maximum of two households present.

Stay at your table. You should be encouraged to remain with your household group anyway but like in pubs, the experts suggest staying with your household group rather than getting up to order or go to counters to pay. This also includes trying to avoid using the toilet if possible during your restaurant visit.

Don't use communal cutlery. Dr Dingwall says taking cutlery from a communal pot on the table is "probably not a good idea", as it may have been there prior to your arrival – get cutlery with your meal. Most restaurants should be doing this as part of their Covid-secure measurements anyway.
What do the government rules say?
Hairdressers, barbers and other "close contact services" have been some of the hardest for the government to reopen due to the proximity between customers and employees. Now they are permitted to open for services that "relate to cutting or treating hair on the head" but this does not include services like nail salons, tanning, or other beauty parlours.
All hairdressers and barbers need to keep a temporary record of clients for 21 days and there will be no more spontaneous barber trips as they should operate an appointment-only system. When customers book they should be told to come alone, arrive on time (not early, to avoid loitering) and Covid-screened (asked if they have symptoms).
As social distancing is not possible here, your hairdresser will have to wear a visor according to the government's rules. Not only will your hairdresser look different but they'll sound different: the National Hair and Beauty Federation has reportedly discouraged talking, and hairdressers have been told to keep hair-cutting time to a minimum, and any face-to-face discussions will have to be side-to-side.
There will also be no magazines on offer you will have to wear a disposable apron during your cut (if not, the gowns have to be washed after each customer). There are likely to be screens in wash stations, and contactless for all payments (so no cash tips). If your hairdresser comes to your house you should discuss how social distancing will be adhered to.
How safe are hairdressers?
Dr Clarke says: "You're in close proximity to someone so there is a certain amount of risk – if they [hairdresser] are carrying the virus then a visor isn't going to offer you complete protection because when they talk or breathe out that is directed downwards. There is no simple answer to these things you've got to weigh up the risks for yourself."
Dr Dingwall says: "Hairdressers do not spend a lot of time face-to-face with customers, the interaction is through the mirror normally. In a sense the customer's best protection is having confidence in the standards of these places which are used to being sterile anyway."
What can you do to keep yourself safe?
Wear a face mask – if you can. Dr Clarke says if you're a nervous person you might want to wear a face covering, but of course it will need to hook around your ears in order to have the haircut while wearing it.

Consider getting a hairdresser to come to your house. Dr Clarke says that reduces risk in terms of lessening the number of people you come into contact with – but then you run the risk of that person bringing the virus into your home. You might want to consider an al-fresco garden cut if it isn't raining, as the transmission risk is always lower outside.

Be aware of what you touch. Once again the best way to keep yourself safe is to rely on the basic principles the government has been reiterating for months, mostly keeping your hands clean. Dr Clarke recommends taking a bottle of hand sanitiser. You might want to take a book or paper of your own – make sure you are sensible about where you touch or put things down – including your mobile phone.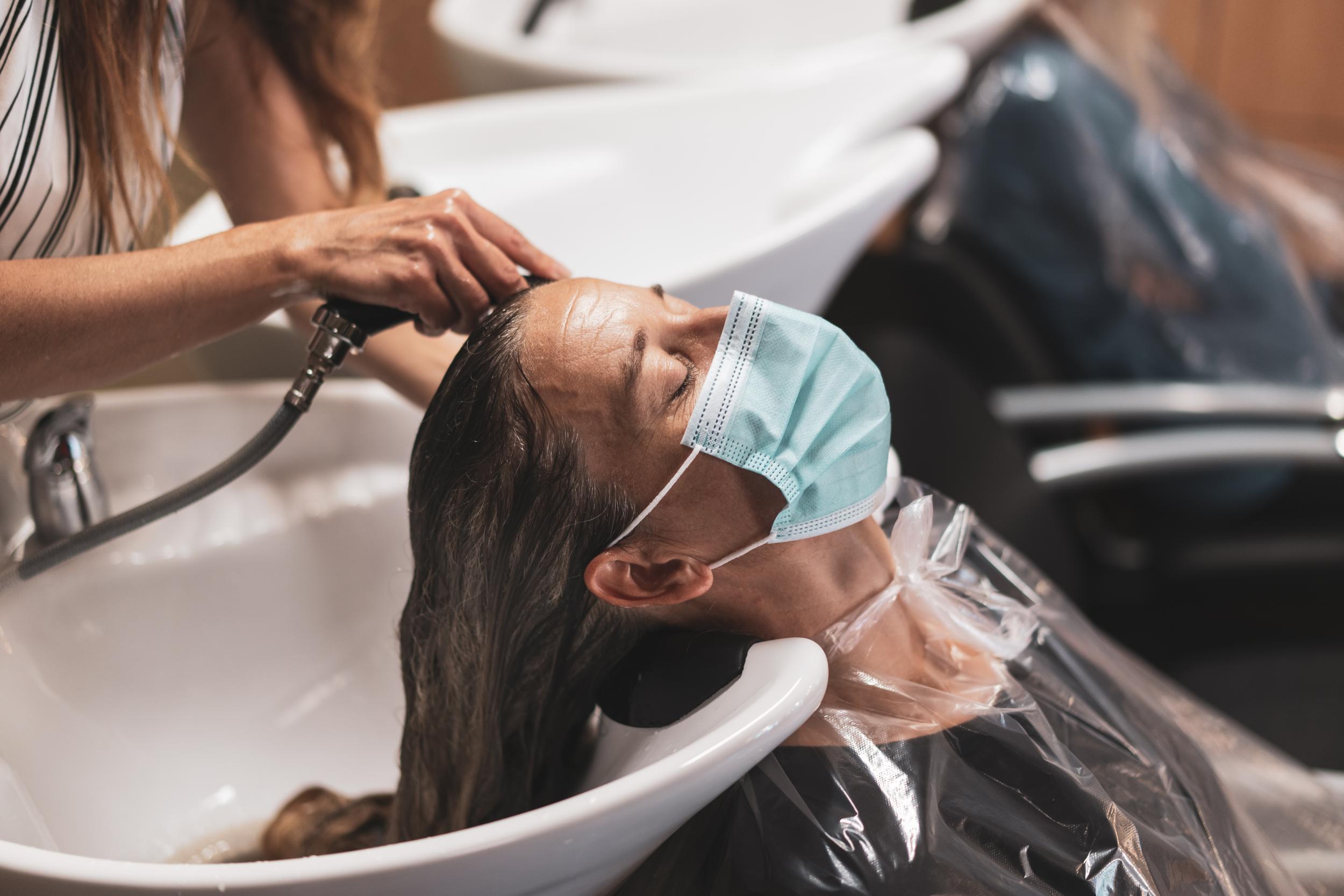 What do the government rules say?
Unlike guidance for other venues, which is available directly on the government website, the guidance for cinemas has been compiled by trade body the UK Cinema Association in consultation with the Department for Culture Media and Sport (DCMS).
All cinemas will be required to keep a record of customers for 21 days and promote online booking, the use of e-tickets and self-scanning points for customers. Managers will have to limit the number of people in the venue by reducing audience sizes, amending timetables, including reducing the number of screenings.
Seating in the auditorium itself has to be pre-allocated to facilitate social distancing between household groups: seats have to allow at least one metre distance (if not two metres). Like other places, there should be a one-way flow where possible and use of different doors – the guidance says using emergency exits as potential exits is a possibility.
There will also have to be a "sufficient break" between screenings to prevent waiting in groups and allow cleaning. Cleaning of auditoriums has to happen "very frequently", typically between each screening, with particular attention paid to screen doors and handrails. Seats should be cleaned between each screening. And areas should be ventilated, with fresh air if possible.
Cinemas have to remove all open, unpackaged, self-service confectionery such as pick 'n' mix, (popcorn is probably protected as it is served by employees not guests) and should manage the serving of alcohol, including controls on purchase or consumption, at levels that might impair social distancing. They should also be "mindful of" programming film content which is likely to "encourage audience behaviours increasing transmission risk", says the guidance – this most likely means things like musicals that encourage singing, although this is not explicit.
How safe are cinemas?
Professor Prashant Kumar, chair in air quality and health at University of Surrey, with an expertise in airborne nanoparticles, says: "This virus is not gone and is still around and [that] is the underlying reason for risk of all built environments indoors when there is high density of people." Although Professor Kumar warns against categorising all places with a prescribed level of risk (as it can vary on individual factors), in general he says the golden rule is "higher the people, poorer the ventilator, higher the risk of infection".
"Some places are better in terms of their built structure allowing an advantage over others – if there is a pub, restaurant, prayer venues with open space have better chances of reducing the risk over others such as cinemas where the movies need to be played in a hall," he says.
Dr Dingwall says cinemas are "probably a little riskier than some other environments" because of the duration of a film. "You are sitting there at least a couple of hours," he says, although says that ventilation in most modern cinemas is good enough to reduce a lot of risk.
Dr Clarke also raises the issue of cinemas being dark spaces that never see sunlight – UV exposure is a known factor in the reduction of viruses.
What can you do to keep yourself safe?
Go straight to your seat – don't stop for popcorn. Dr Dingwall says: "The riskiest areas are probably the lobby areas where people gather in groups to get tickets and buy food or drinks. It is probably not a good idea to loiter in these places, standing in a long queue buying popcorn. Go in and straight to your seat."

Keep your hands in your lap. The guidance says cinemas should be cleaning auditoriums regularly. Dr Clarke says the most risky touchpoints are the plastic parts of the seats – like the drink holders, not the plush fabric where you sit [because that isn't where people's hands are most likely to touch]. If you can't be certain it has been cleaned, keep your hands in your lap and avoid touching your face.

Don't worry about sitting at the back. You might think sitting in the back row would be safer because any particles coughed or sneezed out by cinema-goers would be directed forward, but the scientists say ventilation systems may mean this isn't true. "It is all about the air current – it could be front to back or side to side, there is no reason to think sitting at the back would be any safer." So don't worry about booking a ticket at the back – just make sure you are one to two metres from others.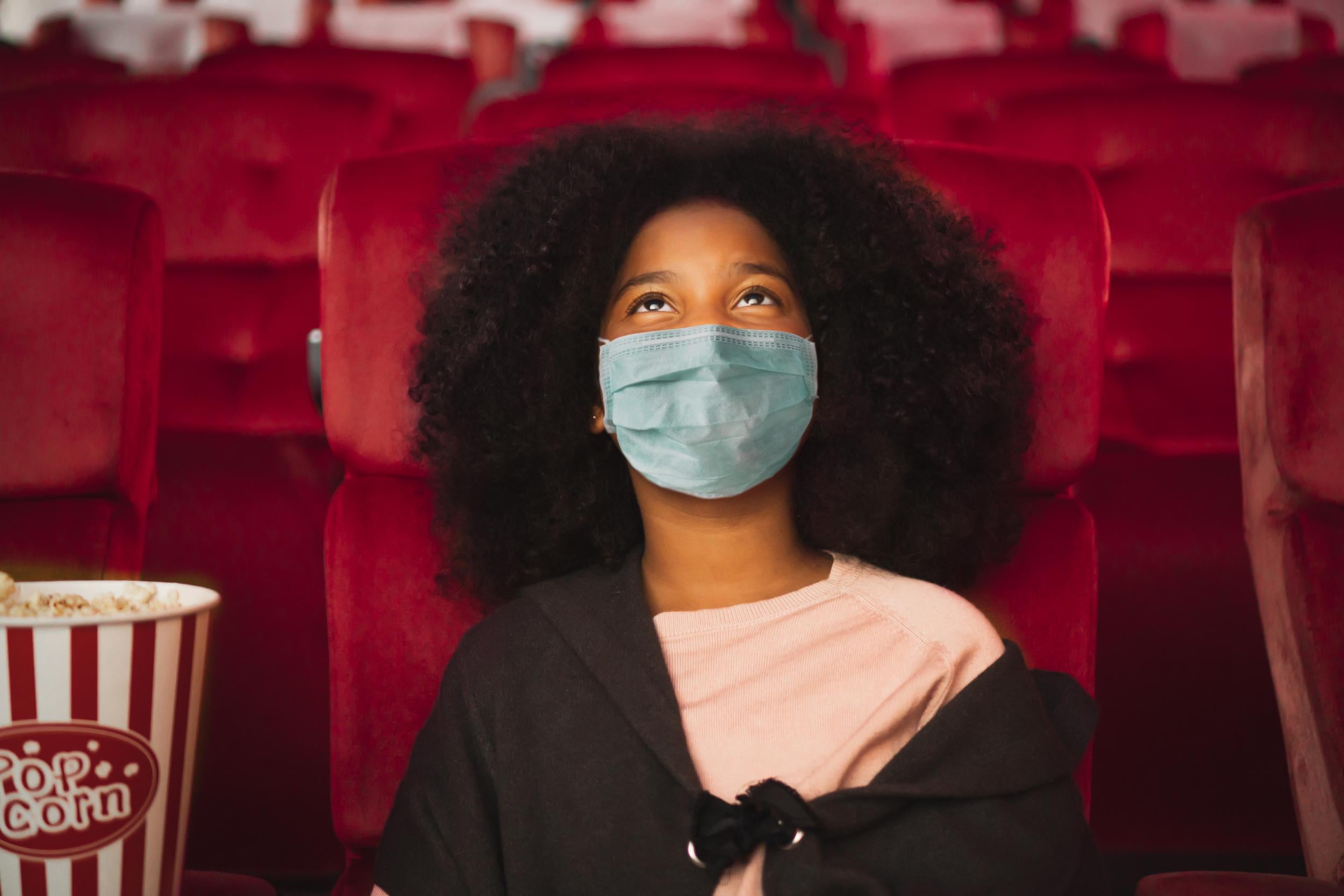 What do the government rules say?
The DCMS has guidance, published in association with Historic England and National Museum Director's Council, includes asking all visitors to get timed tickets and pre-book and to reduce the number of people entering an exhibition or site at one time. There will need to be clearly communicated one-way routes and spaced queueing systems in place.
Access to audio guides may need to be reviewed, with museums considering new formats for the content, such as apps that can be accessed on visitor's mobile phone or other device. Otherwise the government suggests quarantine periods for publicly-shared handsets.
Shops and cafes will need to reopen in line with guidance for food businesses – which includes customers having table service, using contactless payment and not getting their own cutlery or condiments from a communal table.
How safe are art galleries and museums?
Dr Clarke says: "The thing with galleries and museums is that generally people are moving through them – and with virus spread there is a time element [the risk is significantly higher if you're within two metres of an infected person for more than 15 minutes]. So as long as you're not hanging around when you're in a gallery and you keep moving, you have a low risk.
"Of course some people do linger and that will be a problem for the organisation. But it is a social space like any other where crowd density matters."
What can you do to keep yourself safe?
Keep moving. Dr Clarke says you shouldn't linger in front of one exhibit for a long period of time – try to keep moving. This will not only reduce the risk of coming into contact with an infected person for a period of time, but means you're not stopping other people from seeing items when they're trying to social distance.

Don't touch any surfaces. Unlike pubs, restaurants, shops and cinemas, visiting art galleries or museums doesn't require you to touch anything during the experience. If you can keep your hands to yourself (and not sit down on any benches) this will reduce your risk of coming into contact with the virus.

Bypass the gift shop. Avoiding areas like the gift shop or cafe that are likely to be more cramped will mean you run less risk of having to compromise on social distancing. It will also help you not touch anything.
What do the government rules say?
Zoos, safari parks and other outdoor attractions have already reopened, but on 4 July, theme parks, arcades, funfairs, aquariums and piers will be permitted to open their doors too. Model villages can also open, provided all are compliant with government guidance.
Once they do so they will be required to have all visitors pre-book their visit online. Like other sites they will be required to keep a temporary record of visitors for a period of 21 days. The guidelines also recommend a one-in-one-out policy when a certain capacity is reached.
There should be signage around the site about distancing as well as access to hygiene stations (prominently featured on any park maps). They should also be encouraging contactless payment where possible and telling customers attractions may be closed for cleaning during their visit.
Staff will have to ask riders if they are one family group or household when admitting people. For example, sharing a gondola or carriage. If staff are wearing character costumes they should be cleaned before each use, especially if different members of staff are sharing an outfit.
Visits to indoor arcades or entertainment centres should only be conducted in a household bubble or group with one other household. Owners have been told to risk assess areas that have lots of human touch such as plastic guns, fruit machines and grab toy machines, all of which will need to be cleaned regularly if they are to remain open.
How safe are theme parks and arcades?
Dr Simon Clarke says although theme parks are outside – and therefore more exposed to virus-killing UV rays – there are still some concerns about the nature of attractions with rides.
"As you queue up for rides people are touching things," he says. "You've got lots of things people touch – railings, handles, then on more vigorous rides people will grab hold without even thinking. It is inevitable. And people will be screaming and shouting on many rides.
"Although on a sunny day it is reasonable to expect that sunlight might have some disinfectant activity, on a dull day or in the shade, we cannot rely on that."
What can you do to keep yourself safe?
Keep your hands clean. Attractions will have an increased number of hand hygiene stations available – around the park and in toilets but it would be helpful to take a bottle of your own sanitiser for use before and after you get on rides.

Try not to touch railings and keep your hands up on rides. The less you can touch – the safer you will be. Even with thorough cleaning regimes, attractions have a high turnover of visitors so better to ensure you are doing all you can to mitigate your own risk.
What do the government rules say?
Since 13 June places of worship have been permitted to open for private prayer but congregational services, ceremonies and communal worship are still not permitted.
No services are allowed apart from funerals and there should be strict adherence to social distancing of at least two metres. Multiple entry points could be opened and clear signposting or assistance should be offered. Venues should consider using screens, barriers or alternative rooms and spaces to separate worshippers.
Individuals should also avoid touching property belonging to others such as shoes which, if removed, should be placed and collected only by their owner. Books, reusable and communal resources, such as prayer mats or service sheets should be removed from use. Single use alternatives can be provided as long as they are removed by the worshipper.
Singing and playing instruments should be avoided, with the exception of organists who are able to use buildings for practice with appropriate social distancing. Where possible faith leaders should discourage cash giving and continue to use online giving instead.
How safe are places of worship?
Dr Simon Clarke says: "Of course obvious things like communion wine are definitely out for the moment – and of course there is no singing. It is quite low risk because people are sitting apart for individual worship – so the opportunity to mix is quite low."
But he warns you must be careful what you touch – just because there are likely to be fewer people in close proximity while communal worship is forbidden, it doesn't mean there aren't risks involved in touching shared pews, benches, seating areas, prayer mats and other objects.
What can you do to keep yourself safe?
Do not touch any shared items, like hymn books. Government guidelines say Individuals should be prevented from touching shared prayer mats, hymn books or other service sheets and should not kiss devotional and other objects that are handled communally.

No washing/ablution rituals. Any washing rituals should not be done at the place of worship and all shared areas for washing should be closed at the moment.

Don't participate in any singing or chanting. Just as in pubs, the government is asking everyone to avoid singing (this includes choirs) or chanting, or doing anything to raise their voice above a conversational level. This reduces the possibility of spray and further aerosol transmission of the virus.
What do the government rules say?
Non-essential shops have been open since 15 June. Guidelines are strict about the social distancing regulations – retailers should have a maximum number of customers per store.
They should encourage customers to use hand sanitiser or hand washing facilities as they enter the premises and not touch products while browsing. They should not be allowing customers to try items on in store and should encourage customers to shop alone where possible. They should consider implementing one-way systems to improve traffic flow.
Shops are also responsible for ensuring communal areas do not become too congested with queueing and to stagger opening times with other businesses around them to distribute the number of people visiting at any one time.
How safe are non-essential shops?
Dr Clarke says that "for the most part" the rules that have been put in place for shops will mitigate risk of virus spread. "But it is worth banging home, there is no such thing as no risk when you're going out to places with other people," he adds.
What can you do to keep yourself safe?
Follow one-way systems in store. Shops are only allowed to open if they are following Covid-19 secure guidelines, which includes managing the flow of traffic around shops. Help to keep everyone safe by following floor markings or signs.

Don't touch things on the shelves (unless you must) and don't try clothes on. If everyone could keep their hands by their sides when shopping, then the risk of Dr Fitzgerald's "second mechanism" is much lower because there is no chance of indirect transmission onto items in the shop. Government has also recommended changing rooms are closed for the foreseeable future.

Buy clothes online. Dr Clarke says that for people who are in need of an item, rather than wanting to browse the shops, they might consider continuing to shop online – as many have done in lockdown. He says: "There is minimal risk from post deliveries, the World Health Organisation (WHO) has said that". And Dr Clarke says you do not need to leave your post for 72 hours unattended when it arrives at your home.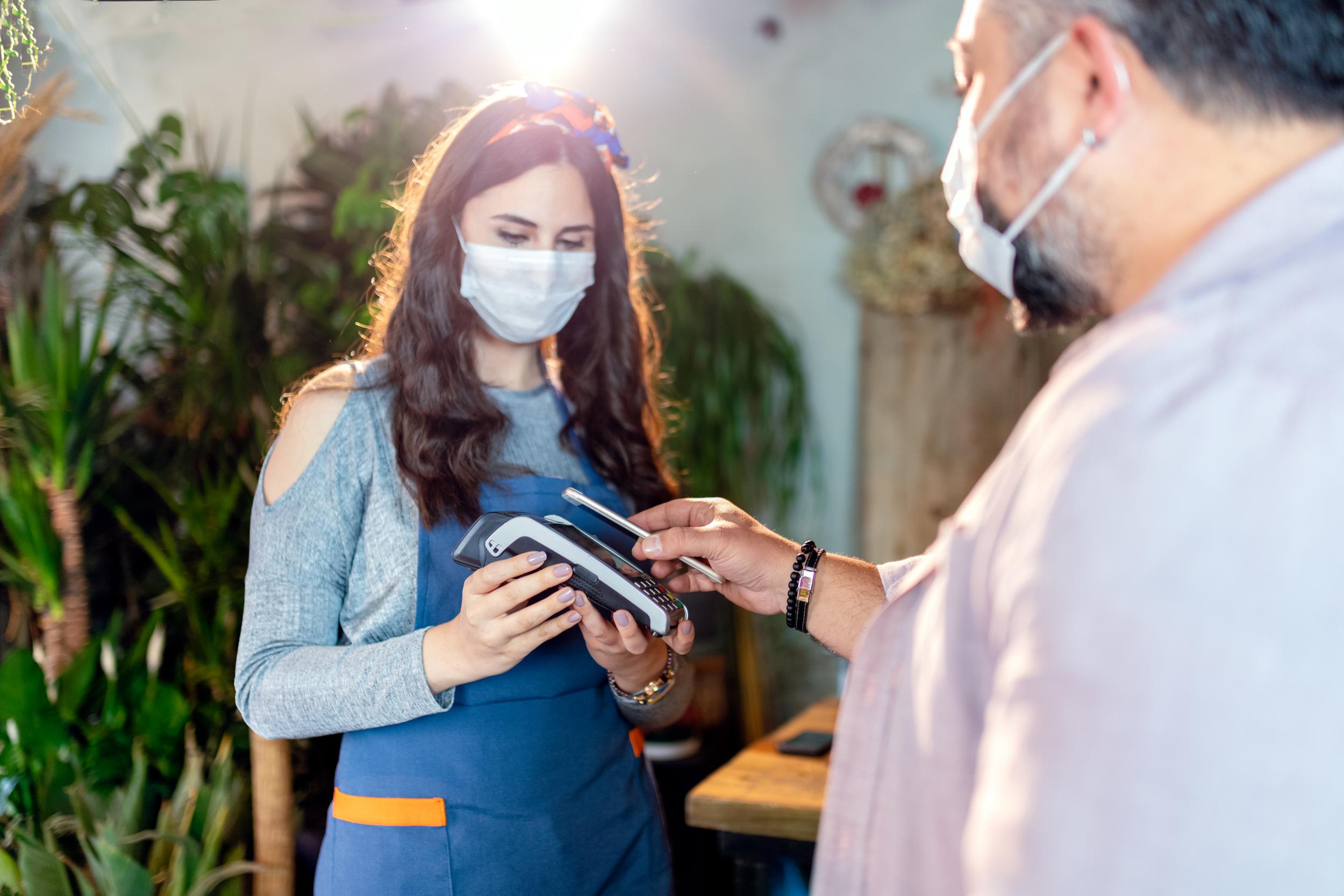 What do the government rules say?
Libraries are permitted to reopen on 4 July. Libraries Connect published government-approved guidance for reopening, which includes: not allowing a gathering of more than 30 people and no live readings of books or performances.
It says "books may be a vector for the virus" and libraries should develop quarantine procedures for returned books and resources (they recommend 24 hours for paper and card and 72 for plastic items). Washing, cleaning or disinfecting books, they warn, is not practical. Book retailers like Waterstones have been stopping customers from touching books by turning them on the shelf so that the blurb, rather than the front cover, is visible without customers touching.
The government also recommends libraries moving bookshelves further apart, remove chairs and tables to reduce dwell time, limits entry to the library to support two metre distancing, has fixed time entry slots, moves computers apart, asks users to sanitise their hands before using and has staff wipe down keyboards and mice before and after use. Libraries need to keep a record of visitors for 21 days, as per other venues.
How safe are libraries?
Dr Clarke says he has some concerns about the age demographic of libraries meaning that there are perhaps likely to be more people from the at-risk categories, compared to the makeup of the average pub or restaurant. "[Libraries] are a risk. It is debatable how long [the virus] can last on paper because it gets absorbed into the fibres, but of course lots of books are hardbacks or covered in plastic, which means it will last longer [up to 72 hours]."
"And the bigger issue is that many people hang around in libraries – they are a social place as well as just somewhere to get a book out. This is an issue."
What can you do to keep yourself safe?
Don't linger or sit to read. Dr Clarke says the safest way to use a library is to go in, get your book, and leave. He says you shouldn't use them as a reading space or a socialising space for longer periods. This increases your risk.

Give books a wipe. Although the risk is low, there is some chance that an infected person could handle a book and put it straight back on the shelf before you pick it up. Giving it a once-over with an antimicrobial wipe when you bring it home.
Community centres and social clubs
What do the government rules say?
Community centres have been told they can reopen but will have to adhere to a maximum capacity of 30 people indoors, as with other venues, and have been "strongly advised" by the government to not open for indoor fitness or sport activity. They have also been told to perform enhanced cleaning of all facilities regularly during the day and at the end of the day. The government says further advice is coming soon on community centres.
How safe are community centres and social clubs?
Dr Clarke says the aspect of socialisation is also his concern about community centres and social clubs. "They are for the function of getting people together – of course if you are mixing just two household groups that is lower risk than a random group. But the actual hall itself will need to be extensively cleaned, especially if it has a little kitchen and the toilets."
What can you do to keep yourself safe?
If hiring a community centre – ask about their cleaning policy. If you are hiring out a community centre for a function, or attending one, then you can ask what their Covid-secure cleaning policy is and how often they are cleaning shared areas like toilets or kitchens, before using it.
What do the government rules say?
Public toilets have been closed for months now – despite many parks and open spaces being open to the public. The government has been particularly wary about the risk posed but is now encouraging councils to reopen them
In a letter from Simon Clarke MP, minister for regional growth and local government, on 28 June, he wrote to council leaders: "If you have toilets that are still shut, then we strongly urge you to refer to advice on measures that can be taken to open toilets in a safe way...the combination of the hotter weather and the government's push to support outdoor hospitality has reinforced the need for public access to toilets."
The guidance includes using signs to build awareness of good hand washing, the need to increase hand washing frequency and to avoid touching your face, to consider the use of social distancing markers where queues normally form, encouraging a one-in-one-out system, making hand sanitiser available on entry to all toilets, increase cleaning rotas, keeping spaces well ventilated by leaving doors and windows open, and providing more frequent rubbish collection.
How safe are public toilets?
Dr Clarke says he understands why the government has been slow to open toilets as there is a much higher risk associated with them than many other public spaces. "They are indoors, they are dark [not exposed to UV benefits], have a lot of touch points, and very high footfall. And there is the potential risk of Covid-19 being spread by faecal matter."
And even if cleaning rotas are made more frequent – they are unlikely to be cleaned after every toilet user (unlike comparable situations with pub tables or chairs in hairdressers). "When you think about, for example, a toilet in a department store, you have many people passing through that one after the other. These are high streams of people. The opportunity for spread is high."
When asked if Covid-19 can spread via urine or faeces, Professor John Edmunds, professor in the centre for mathematical modelling of infectious diseases, London School of Hygiene & Tropical Medicine, said: "With modern, very highly sensitive detection mechanisms we can detect these viruses in faeces." He explained that "usually" viruses detected in this way are not infectious to others, as they have been destroyed by the gut, but this is not yet confirmed for Covid-19.
What can you do to keep yourself safe?
Try to avoid them where you can. If you don't need to use it, then it would be better to wait till you are at home.

If you do go, avoid touching anything. There are lots of touchpoints in the toilet cubicle – the door, the seat, the tissue, the flush – try to minimise the amount of places you are touching while you are using the toilet.

Wash your hands thoroughly. It goes without saying that you should wash your hands after using the toilet but if you are using a public toilet ensure you wash your hands for 20 seconds or more using warm water and soap. Dry them properly too.

Keep the toilet lid closed when flushing. If there is a possibility of "faecal spread" of coronavirus – this is still unconfirmed – then keeping the lid closed when flushing is a way of reducing the spray around the cubicle.
What are the government rules?
From 4 July outdoor gyms, playgrounds, and other outdoor sports such as ice skating rinks, are permitted to reopen after months of closure (indoor gyms are still not permitted to do so). The government says this decision was made because evidence suggests things exposed to UV light and/or rain, will reduce the sticking time of the virus.
The government guidance highlights the importance of making social distancing easy, by limiting the number of users allowed overall, and on individual pieces of equipment, implementing booking systems if possible, telling families only one person can accompany a child, limiting the number of seats on swings, for example, setting a time limit on the equipment.
It says there should be increased cleaning of: slides, monkey bars, climbing frames, enclosed tunnels or tube slides, exercise bars, machine handles on gym equipment, gates and benches or picnic tables. Picnics have been permitted for several weeks.
How safe are outdoor spaces?
Dr Dingwall agrees that the risk in outdoor spaces is reduced because of ventilation, and exposure to the elements and sunlight – he says the risk is minimal in these situations.
Dr Clarke highlights that some sports are inherently more risky, even if outside, because of the way equipment is used. "For example, cricket balls and frisbees are a greater risk [than ice skating or football], because the person touching them throws them at you and then you touch them (and cricket balls get spat on). But a frisbee, if someone you know then shouldn't be much of a problem but it is sharing a piece of equipment when perhaps you don't need to."
What can you do to keep yourself safe?
Maintain social distancing when outside. The two metre distance is still being suggested as the best way to keep yourself safe – this is reduced to one metre in cases where two metres is not possible.

Clean your hands after using shared equipment. If you do need to use equipment that is being used by other people – then keep your hands away from your face until you can get them cleaned.
What do the government rules say?
From 4 July you can now meet indoors with another household (this does not need to be the same household every time) or meet outdoors with up to two households, or a maximum of six people from any number of households. Although it does remain the case that – even inside someone's home – you should social distance from anyone not in your household or bubble.
When you meet outdoors you can meet in public or private spaces, such as gardens, yards or roof terraces – as long as you maintain social distancing. Garages, sheds or cabins are all indoor areas where the risk of transmission is as high as if you were in a small room in a house.
From 4 July people can also stay overnight at someone else's house: although again this is capped at a maximum of two households. During this time people should try to maintain social distancing, regularly wash hands for 20 seconds or more, avoid sharing plates and utensils, avoid the use of paddling pools or garden equipment together. If you do so, use disinfectant to wipe down surfaces and door handles.
How safe is it to visit someone else's house?
Dr Dingwall says: "This is a low risk and many people are exaggerating the risk over that – especially because the community in general now has low numbers of the virus (most of it is in hospital settings) and it is a diminishing risk."
Dr Clarke also says this setting is "lower risk" because you're seeing a limited number of people. Although he does say that maintaining social distancing in these circumstances will be tricky for many people. "If you're going to visit family the whole point is not to be distant from them, so it defeats the object in some way to do that."
What can you do to keep yourself safe?
Practice social distancing where possible. If you are visiting friends or family then stay in the garden or outside if possible (weather permitting) - as virus transmission is lower outside than inside. Make small adjustments like sitting on the opposite side of the table to the other household, or not sharing cutlery and condiments when eating together.

Be vigilant about cleaning after yourself. It is easy to quickly get comfortable around friends and family and slide back into old habits but try to be vigilant about what you touch and when using shared facilities like bathrooms – if you have anti-microbial wipes then give the sink and taps a wipe.

Don't visit if anyone has any Covid-19 symptoms (even if they are mild). If anyone in your household or the other household has a new and persistent cough, a fever, or loss of smell or taste, then isolate at home and do not visit other people.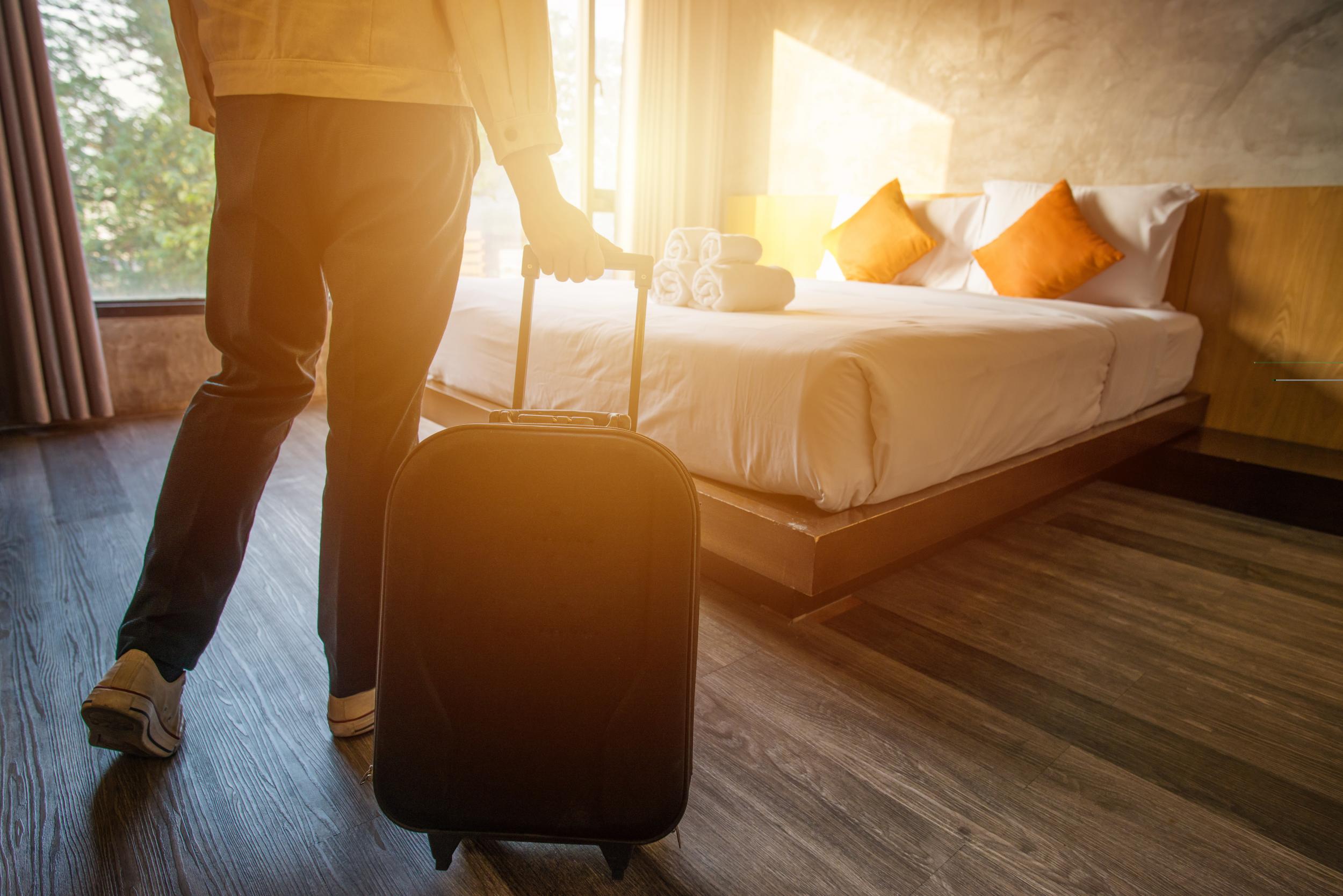 What do the government rules say?
After months of closure, hotels, B&Bs, hotels, boarding houses, rental cottages and homes, caravan parks, AirBnB and other accommodation can all reopen from 4 July – just in time for the holiday season. They will have to be Covid-compliant and follow a new VisitEngland standard.
These new rules will include: having to introduce deep cleaning between guests, making meal services like breakfast pre-booked and timed (and table service not buffet), encouraging contactless payments, introducing one-way systems in communal areas and lobbies.
Reception areas should be made safer by reducing the time guests spend there, and adding screens to counter areas, hotels should "minimise" lift usage from reception, where offering room service drop trays outside the door, encourage guests to wear masks on communal corridors and remind all housekeeping staff to regularly wash hands. They also recommend cleaning keys between guests.
Current government guidance states that private rooms in all indoor accommodation with en-suite showering facility, or one designated shower facility per guest room, will be able to reopen. Shared toilet facilities can also be opened. If shared toilet and shower facilities are in the same room, guests are able to use the toilet but can only use the shower if it is assigned to one household or support bubble or run using a reservation and clean rota.
The government strongly advises that shared sleeping spaces (i.e. dormitory rooms) should not be open to any groups, except those travelling with a household group. Other shared facilities (including shared showers and kitchens, but not toilets) should not open, except on campsites (and only in accordance with government guidelines for cleaning or use).
When guests book they should be made aware of limits on gatherings and non-mixing of more than two household groups. All accommodation should keep guests details on file for 21 days.
For camping, caravanning, motorhomes and holiday parks, further government-approved guidance is available on the National Caravan Council, British Holiday and Home Parks Association websites. British Marine for hotel boats and holiday boat hire. And for self-catering accommodation, refer to the Professional Association of Self Caterers; the B&B Association; the Short Term Accommodation Association and the Country Land and Business Association.
How safe are hotels and B&Bs?
Dr Clarke says: "All of the risk here is incumbent on hotel and B&B owners to simply make sure they are clean enough – customers will have to rely on the hotel to do things properly because that risk comes from meeting other people in shared spaces – like a rented room.
"We know that they clean rooms between guests normally, but they wouldn't necessarily clean all the touch points (wall light switches, lamp switch next to the bed, wardrobe doors).
"Caravan parks are less risky because people are going to be taking their own caravan or motorhome, but again you have to be wary of shared spaces like washing or toilet facilities."
Dr Dingwall says he is seeing a lot of hotels introducing very thorough cleanliness policies, which he believes are more than adequate to prevent high risk. He says: "For example, there is no need to leave a room empty for 72 hours between guests, but some are suggesting this."
What can you do to keep yourself safe?
Don't spend lots of time in the breakfast room or hanging around the bar. If you are eating in communal spaces then use table service, don't interact with other guests and don't linger in bar areas or the lobby – go back to your room after you've eaten. Alternatively get room service if available.

Give less obvious surfaces a wipe. Dr Clarke says although it isn't essential, if it gives you peace of mind then take your own wipes and do the less obvious touch points – like the light switches and wardrobe handles or hangers. These might be overlooked by cleaning staff but are very likely to be included.
****
Flying
What are the government rules?
Passenger aviation has continued to, from and within the UK during coronavirus, but numbers have been low since 17 March, when the Foreign Office warned against all but essential travel. Numbers declined further on 8 June, when the two-week quarantine was deployed. But this "double lock" is likely to be lifted on 6 July, and big airlines have already resumed operations.
The law around flying is sketchy: passengers are required to wear a face covering at airports in Scotland, and "on board an airline service in England and Scotland". In practice, however, all airports and airlines insist that face coverings are worn unless the passenger is young (precise ages vary) or unable to wear one because of a medical condition.
Airports are generally restricted to passengers and staff, though travellers who need assistance may be seen off or met. Social distancing procedures operate at check in, through security, in restaurants, bars and shops, and at departure gates. The government is urging passengers to check in as much baggage as possible, in order to reduce the amount of congestion in the cabin.
Boarding is generally from the back of the aircraft to the front. Once on board, passengers are told to remain seated as much as possible; some airlines stipulate that permission must be sought from cabin crew to use the toilet. Many carriers are offering very limited in-flight service. The government says "use contactless payment where possible".
On arrival, passengers are told to remain seated until those in front have retrieved their belongings and started to leave the aircraft.
How safe is flying?
Dr David Powell, medical advisor for the International Air Transport Association (IATA), says aircraft design minimises the risks on board of droplet transmission: "There are high flow rates, with no stagnant air and very little fore-aft flow."
The onboard air supply is sanitised through HEPA filters, similar to those used in operating theatres. Airlines have overhauled their cleaning protocols, with checks between flights and thorough disinfection of services at the end of each day's service.
What can you do to keep yourself safe?
Book direct flights rather than connections. The risk of infection increases in line with the number of different interactions, which in turn rises with each airport you pass through and each aircraft you board. If a nonstop flight is available, paying extra for it will reduce the danger.

Don't hang around in the airport. We've all become accustomed to spending lots of time at the airport but with passenger numbers far lower than usual, processing is actually quicker than usual. The less time you spend in the departure airport, the lower the probability of infection.

Take less luggage. The Department for Transport (DfT) urges travellers to check in everything they can, but since this involves two more procedures – at the departure and arrival airports – it is better to take only hand luggage, and minimise the amount.

Bring your own snacks. The number of locations in airports providing food for flights is increasing, but if you bring your own supplies you will reduce interactions.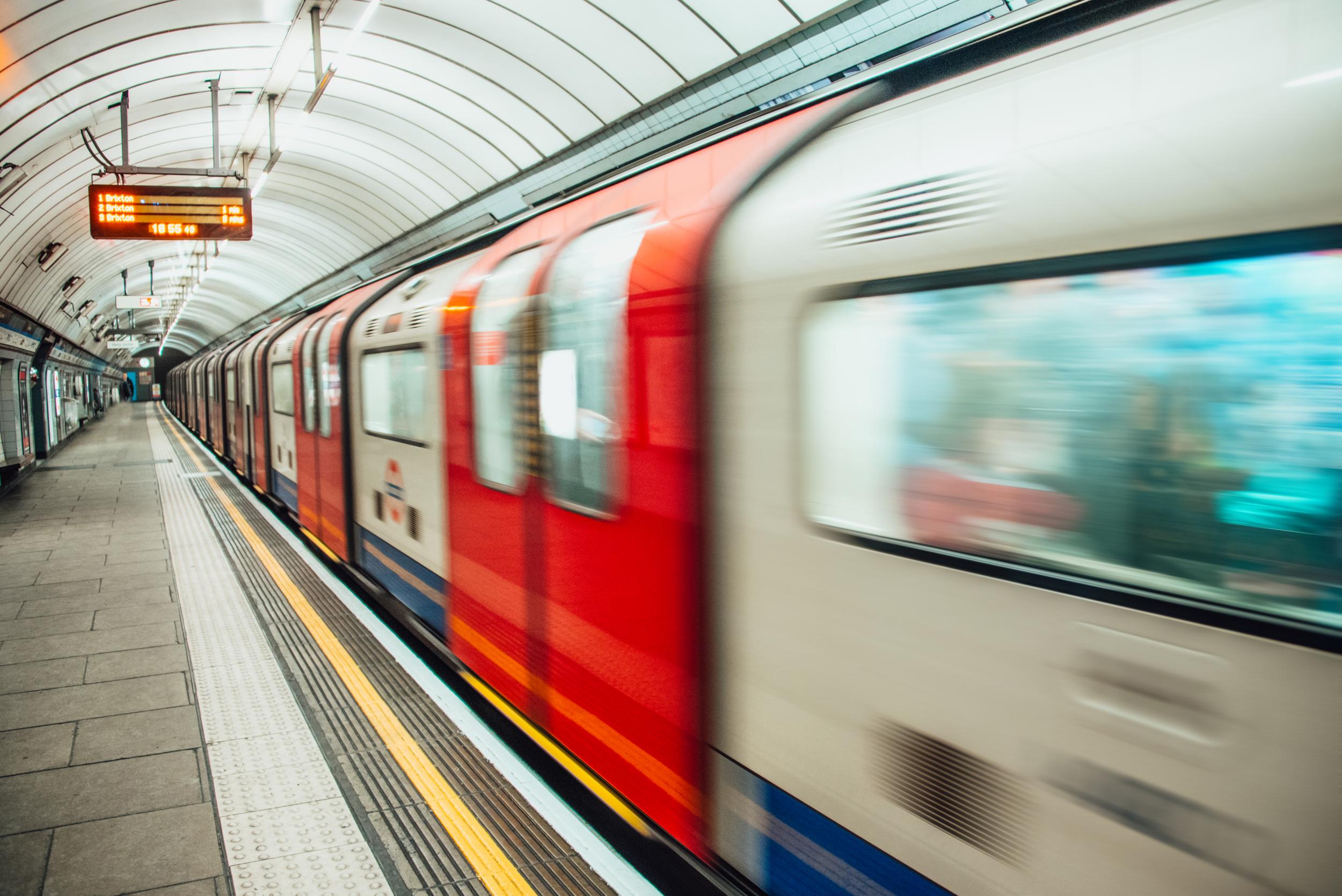 Rail travel
What are the government rules?
"Can you travel another way?" asks a billboard at what is normally Europe's busiest rail station, London Waterloo, with travellers urged to walk, cycle or drive instead. The Department for Transport (DfT) and train operators are doing all they can to dissuade all but essential journeys.
Network Rail, part of the DfT, says: "Only take the train if there's no other way to travel. Passenger carrying capacity, with social distancing in place, remains very constrained with the ability to carry only around 10-13 per cent of normal levels."
Anyone who does travel must wear a face covering for the full duration of your journey on public transport in England and Scotland. This includes time spent in the station. Some exemptions are in place for age and health reasons. If you do not wear a face covering you will be breaking the law and could be fined £100, or £50 if you pay the fine within 14 days.
How safe is rail travel?
Travel health expert Dr Jane Wilson-Howarth said: "The air in crowded trains tends to be stagnant and shared with lots of people so that these would be perfect environments for acquiring lots of virus."
Dr Richard Dawood of the Fleet Street travel clinic, says the risk to some extent depends on the age of the rolling stock: "The newer the train, the more likely it is to have decent air-conditioning." But says that what would be preferable is older models where windows still open and allow fresh air because the air is moving through the cabin more quickly rather than re-circulated.
Dr Clarke also raises the point of train ventilation and says because you're likely to be on one for more than 15 minutes – the risk increases. "Table seats are another riskier touch point and you're likely to be face-to-face with someone else – I'd be interested to know if train companies are booking those seats at the moment."
What can you do to keep yourself safe?
Avoid peak time. The morning peak is regarded as the most susceptible to crowding, with passengers urged to avoid non-urgent journeys between 5.45am and 9am on some busy lines, particularly into London. There is often a second peak immediately after 9.30am when off-peak fares take effect.

Use window seats (and avoid table seats). This reduces the proximity of interactions with other passengers. On some trains there are still windows you can open a little – do this, even if it annoys your fellow travellers

Book in advance for long-distance trains. The UK railway has long had a policy of allowing passengers with flexible tickets to board any train they wish, so long as they don't mind standing. During the coronavirus crisis, that option has been suspended.

Go express. The fewer stops your train makes, the fewer interactions there will be.
Ferry
What are the government rules?
The UK is heavily dependent on ferry transport but non-essential journeys have been discouraged during coronavirus.
All passengers must wear a face covering when travelling on ferry or hovercraft in England, and you can be fined if you do not. This includes when you are in the ferry terminal. It is possible, though, that in some outdoor areas, you may be able to take the mask off temporarily. Social distancing should be in place with people trying to maintain a two metre distance at all times.
How safe is ferry travel?
Dr Richard Dawood says: "Being outdoors is great. Being on an outer deck of a cross-Channel ferry should be perfectly bearable."
Simon Palmer of Stena Line says that the company has capped the numbers of passengers on each crossing, and adds: "Fresh sea air is now being circulated into the air filtration systems on all ferries. New fog machines are being used to sanitise communal areas and cabins on the ferries, alongside the continuous cleaning routines being undertaken throughout the ships."
What can you do to keep yourself safe?
Go off-peak. On short cross-Channel ferries, this will be early or late services – typically leaving Dover before 9am or after 6pm. This will reduce the likely number of passengers.

Book a cabin. On some longer Irish Sea, Channel and North Sea ferries it is possible to pay extra for a cabin, which will give much more protection against possible infection. But only if it is for the sole use of you and your household. (Ferry firms are generally insisting on this, anyway.)

Take a bicycle. If you are not a car driver, and would normally be a foot passenger, actually taking a bike means you can access and leave the ferry via the car deck, reducing encounters with other people.

Go undersea. If you are a vehicle driver and prefer minimal interactions, then Eurotunnel's car carrying operation from Folkestone to Calais is probably the way to go.
Underground
What are the government rules?
Only non-essential journeys are permitted on the London Underground, passengers are asked to explore all other options before getting on the tube and continue to work from home where possible. This is largely because – unlike many other environments, there is limited capacity for social distancing on the tube unless numbers are greatly reduced.
Face coverings are compulsory on the tube in England, as well as the subway in Scotland. Busy stations should have separate entrance and exit routes – you should also follow directional arrows inside the station to keep apart.
How safe is underground travel?
Adam Kucharski, an associate professor at the London School of Hygiene and Tropical Medicine, says that the nature of interactions on tube trains, and the limited time that many passengers spend on it, mean that it does not present as significant a threat as you might think.
But Dr Clarke says he does worry about when tube trains become more densely packed again: "If [people] think their face mask is going to protect them then they're kidding themselves – they'll have a tiny mitigation. And there is no evidence that facing the doors rather than inwards makes a difference. In reality if you're stood next to someone with the virus you're at quite considerable risk."
What can you do to keep yourself safe?
Bigger is better. The "sub-surface lines" of the London Underground, ie the District, Circle and Metropolitan Lines, have bigger carriages with more space for social distancing than the narrower-profile Tube lines. They also have more stations with access to fresh air. But Dr Clarke says the fact they aren't compartmentalised does mean the virus is free to spread throughout, unlike older models.
Buses and coaches
What are the government rules?
As with other forms of transport, the government would prefer passengers not to use buses if they can possibly avoid it. If you must use them, the Department for Transport (DfT) rules out any kind of partying: "Travel side by side or behind other people, rather than facing them, where seating arrangements allow." You are also recommended to avoid food and drink where possible, and like in pubs, avoid loud talking, singing or shouting.
There is also a limit on the number of passengers on most bus services – typically 20 on a London double-decker. "Wait for the next service if you cannot safely keep your distance on board," says the DfT. Transport Scotland says: "The bus driver may have to ask you to wait for the next service, even when it does not appear necessary, due to reduced capacity and physical distancing measures."
However, National Express, which resumed long-distance coach services on a skeleton network on 1 July, has no restrictions on who may use its services. But it does have other rules like requiring all passengers to have their temperature taken: anyone above 38C will be denied boarding and given a full refund.
Travellers are required to wear face coverings on all bus and coach services. Passengers are asked to fill vehicles from the back, and empty from the front.
How safe is bus travel?
Dr Clarke says: "Buses you don't tend to be on for as long as train journeys, and obviously the time you're on the transport does make a difference to your likelihood of risk. But be wary of touch points like doors, card readers and arm rests – these things makes a difference."
What can you do to keep yourself safe?
Go nonstop. Even on its reduced network, National Express has a range of inter-city departures. Faster services mean fewer stops along the way, and less time in which you may become infected.

Buy in advance, or use contactless payments. Most transport systems now have fully integrated contactless systems, which mean you don't ever need to handle cash or see a ticker operator. Buy in advance if you can or use your contactless card on the day.
Taxis, minicabs and Ubers
What are the government rules?
Notwithstanding the general preference for avoiding travel altogether, the UK government seems to regard taxi travel as the lesser of several evils – especially for single travellers, and for journeys home from airports.
As on other public transport passengers are encouraged to wear face coverings although this is not mandatory. The Department for Transport does say drivers may be entitled to refuse anyone who does not cooperate in wearing one.
How safe are Taxis, minicabs and Ubers?
Many ride hire companies like Uber, have created strict policies on when drivers can working, telling them: "If you have a mild illness, respiratory symptoms, or have a fever (38C or above), stay home and keep away from others." It also requires drivers to send a selfie at the start of their shift proving they are wearing a mask.
Dr Clarke says you can expect private hire cars to be safer than a tube or train, or other transport where you are travelling with people but don't be lulled into a false sense of security – the cleanliness of the back seat still replies on drivers taking those precautions.
What can you do to keep yourself safe?
Open the windows. The ability to drive along with all the windows open provides a level of protection – though of course cold air or rain may mean that travellers (and drivers) do not avail of the opportunity.

Follow the advice of the driver on where to sit. For example, they might recommend the back left seat – furthest from the driver. Use contactless payment if possible, or find out if you can pay online in advance.

Be aware of the surfaces you touch. Just because you didn't come into contact with the driver or another passenger, doesn't mean germs from the previous passenger aren't lingering. When finishing your journey wash your hands for at least 20 seconds or sanitise your hands as soon as possible.
tinyurl
is.gd
v.gd
v.ht
clck.ru
ulvis.net
shrtco.de
tny.im