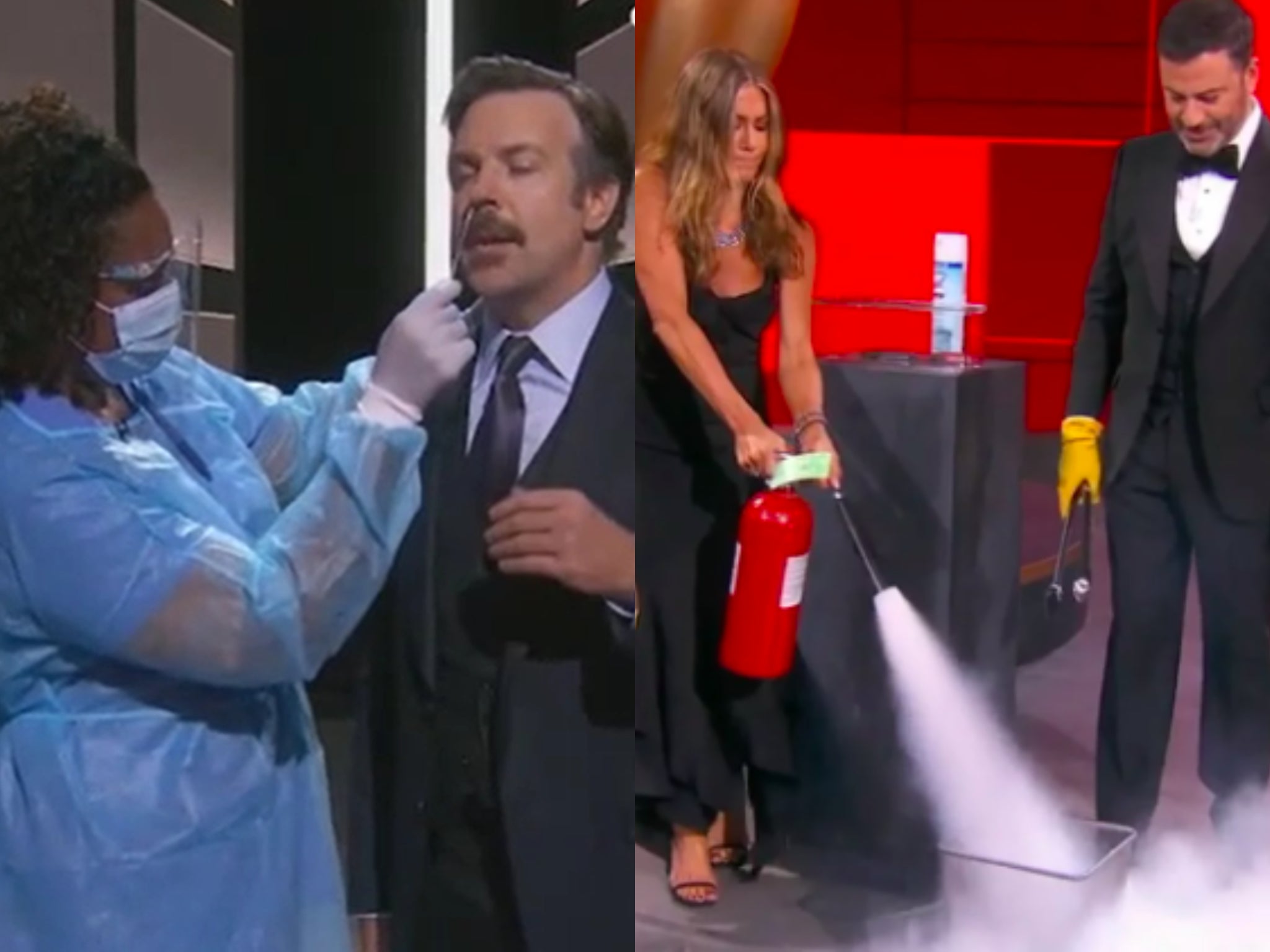 The TV ceremony featured a mix of in-person and remote segments, with host Jimmy Kimmel performing to an empty Staples Center in Los Angeles.
HBO drama Succession was one of the night's big winners, along with the Canadian sitcom Schitt's Creek.
You can find a full list of the winners (and losers) here, and a breakdown of the ceremony here.
However, the awards themselves were only part of what made the night such an odd delight. Here's a selection of the weirdest moments surrounding the mid-pandemic ceremony.
During an in-person segment, Friends star Jennifer Aniston appeared alongside Kimmel and set fire to one of the Emmy winner's envelopes, in order to cleanse it of coronavirus germs.
"That's a little extreme, Jimmy," quipped Aniston, as the host sprayed the envelope with disinfectant and set it ablaze.
Ramy star Ramy Youssef posted a video of what happened after he failed to win in his nominated category – and it's truly surreal.
A person dressed in a hazmat suit can be seen standing outside his window, holding an Emmy and waving, before turning around and walking away.
Jeff Garlin's shirtlessness
However, some viewers were surprised to notice the US comedian had neglected to put on a shirt for proceedings.
Curb was nominated for Outstanding Comedy Series, losing out ultimately to Schitt's Creek.
Just before announcing the winner of the Outstanding Comedy category, Jason Sudeikis was seen undergoing a test for coronavirus.
"Really? This can't wait 5 minutes?" he asked. "Okay. Sorry, folks, we're legally obligated to get COVID tests every hour. Academy policy. You won't even notice she's here."
Jesse Armstrong's acceptance speech after Succession won Best Drama was disrupted when a phone went off in the background.
While Succession star Kieran Culkin's clearly saw the funny side, it served as a reminder of the difficulties of staging an awards ceremony from myriad remote locations.
Reese Witherspoon and Kerry Washington were shown throwing an Emmys party that also served as an end-of-year party.
Hit animated sitcom Rick and Morty also featured during the night's proceedings, during a segment which asked people "what have you been doing in quarantine?"
Sterling K Brown, who was nominated for Best Lead Actor in a Drama (losing out to Succession's Jeremy Strong), was seen posing with an amusing line-up of Hollywood's elite.
Oscar winners Meryl Streep, Mahershala Ali and Olivia Colman were among those to stand by Brown's side – in the form of cardboard cut-outs.
At one point, Tatiana Maslany, the Emmy-nominated star who was cast in the Disney+ series She-Hulk, said she had been "making wine in my bathroom toilet."
After taking a swig, however, she said it was, surprisingly, "not good."