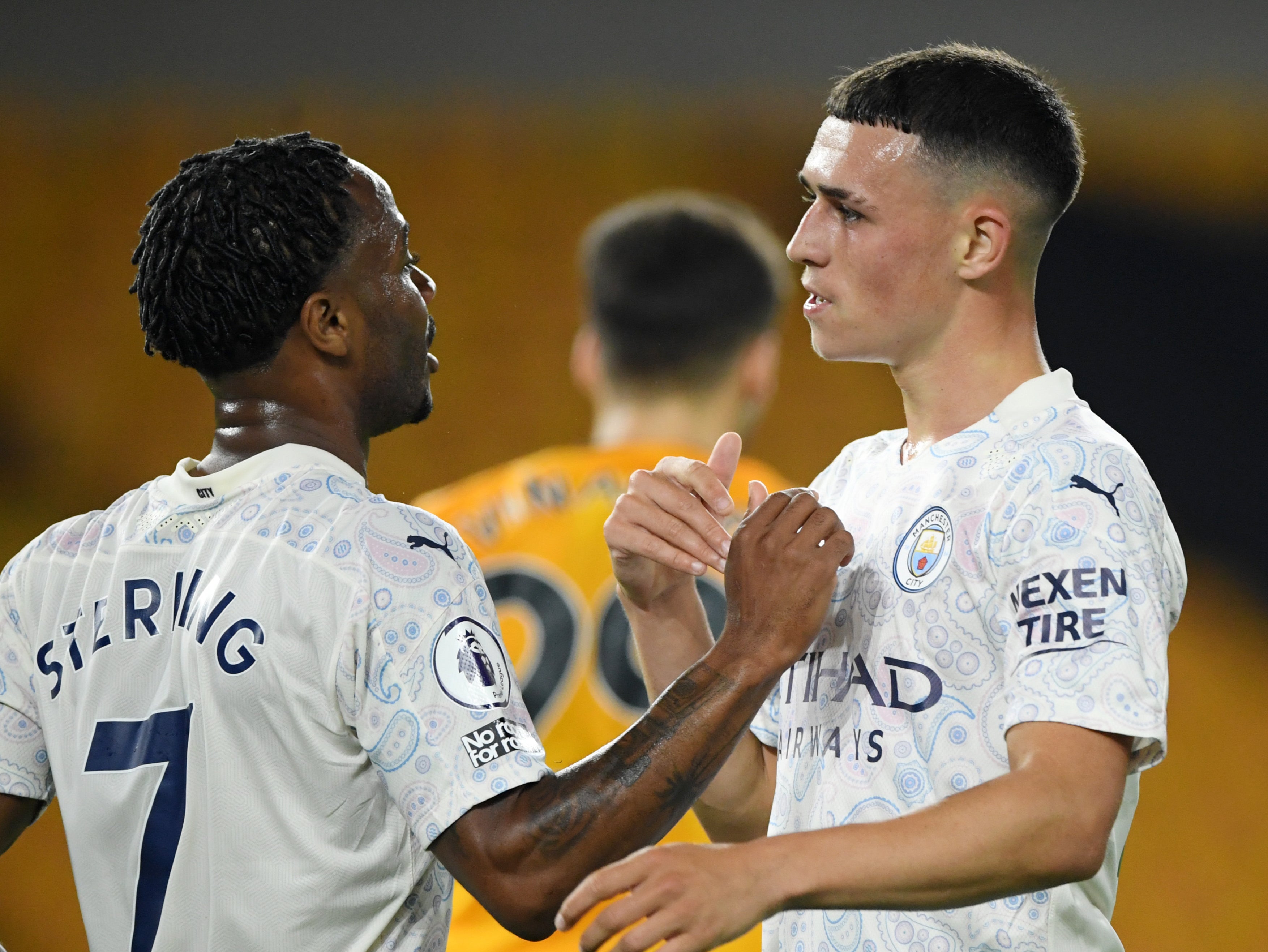 Pep Guardiola's side's extended 2019/20 season meant they missed gameweek 1 of the new term, while Wolves defeated Sheffield United 2-0.
1600718232
42 mins: Wolves' biggest threats have come from set pieces, they've not created anything from open play. They play a corner short and give it to Traore. He whips the ball into the box and Jimenez gets to it but he sends the header wide of goal.
Michael Jones21 September 2020 20:57
1600718159
Michael Jones21 September 2020 20:55
1600717932
36 mins: Wolves aren't being allowed to play. This seems like a Man City side with a point to prove. Gabriel Jesus picks up a yellow card for leaving something on Saiss as he tackles him.
Mendy also goes in the book as he tussles with Traore and comes off worse. He brings down the Wolves winger and the home side have a free kick just to the right of City's box. Moutinho flicks it in and Mendy clears.
Michael Jones21 September 2020 20:52
1600717759
Wolves 0 - 2 Man City - Foden
32 mins: GOAL! Give and go football gives Man City their second. Foden starts the move passing to Jesus. He lays it to De Bruyne who puts the ball into the box for Sterling. Foden is now in the area as well and Sterling squares it to him and he slots it into the back of the net. Easy.
Michael Jones21 September 2020 20:49
1600717587
30 mins: A triangle on the left edge of the Wolves area sees the ball move from Jesus to Foden to Sterling in the blink of an eye and Sterling bangs a shot across goal. The angle was tough and Rui Patricio is able to stop it.
Michael Jones21 September 2020 20:46
1600717471
27 mins: There was a feeling that Man City may have lost a bit of their awe as other teams begin to work out Pep Guardiola. Not so.
City have dominated every minute of this game, they're quick, inivative, intense. Wolves are having to work really hard to stay one goal down.
Michael Jones21 September 2020 20:44
1600717258
24 mins: Slick passes from City move the ball from the right with Walker into the middle to De Bruyne. Sterling makes a run into the box and De Bruyne feeds him the pass but he over-hits it and the ball rolls out for a goal kick.
Michael Jones21 September 2020 20:40
1600716962
Wolves 0 - 1 Man City - De Bruyne
20 mins: GOAL! Rui Patricio picks the correct side when he dives to his left but there is too much power on the Kevin De Bruyne spot kick and it beats the goalkeeper.
Michael Jones21 September 2020 20:36
1600716885
Penalty to Man City!
18 mins: Foden slips the ball into the irght side of the box. De Bruyne runs it down and Saiss slides in taking him out. It's a penalty there's no doubt.
Michael Jones21 September 2020 20:34
1600716667
15 mins: A bit of pressure goes the other way as Traore takes on Stones. He gets the ball into the box but no-one is able to get on the end of the pass for Wolves.
Michael Jones21 September 2020 20:31
tinyurl
is.gd
v.gd
v.ht
u.nu
clck.ru
ulvis.net
shrtco.de
tny.im