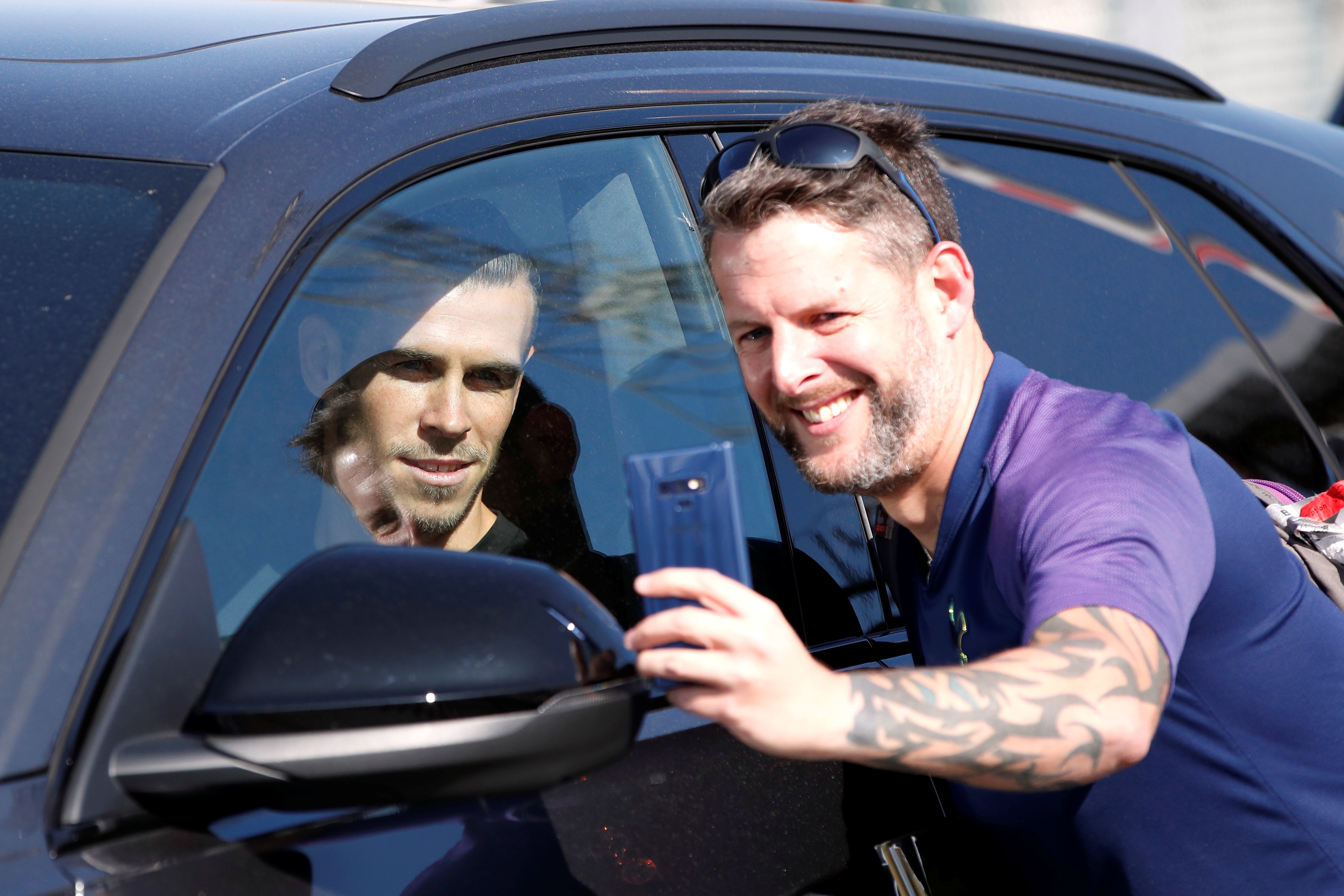 Bale, 31, has enjoyed huge success in Madrid, winning four Champions League titles and two Liga crowns as well as the Copa del Rey, the Spanish Super Cup, two Uefa Super Cups and three Club World Cups.
But his time with the club has soured particularly since the reemergence of Zinedine Zidane as manager, and he has made clear his wish to return to the Premier League.
Speaking last night after Tottenham's 2-1 win over Lokomotiv Plovdiv in the Europa League, Jose Mourinho hinted at the move but refused to go into details, saying: "For me, at this moment, until I'm told Gareth Bale is a Tottenham player, I still think and feel and respect the fact that he's a Real Madrid player, so I'm not going to comment on a Real Madrid player."
Follow all the latest news below:
1600434802
BALE ARRIVES AT SPURS TRAINING GROUND
Gareth Bale has arrived at Spurs' Enfield training ground ahead of completing his return to the club he left seven years ago.
Bale has agreed to join Tottenham on a season-long loan from Real Madrid.
He completed his medical in Madrid yesterday, along with fellow new signing Sergio Reguilon.
It's expected that Bale will be announced as a Tottenham player today.
Emmet Gates18 September 2020 14:13
1600429596
MOURINHO COMPLAINS OF HAVING TOO MANY PLAYERS
Tottenham boss Jose Mourinho has complained about having too many players in his squad, with the impending arrivals of Gareth Bale and Sergio Reguilon.
The pair are due to sign for Spurs today from Real Madrid after having completed medicals in Madrid yesterday.
Speaking at his press conference before their Sunday clash against Southampton, Mourinho stated that he's unhappy with the large number of players in his squad.
"You ask me about Dele [Alli], you could ask me about the other seven players we left behind," said Mourinho. "To be honest I don't like the number of players I have in my squad, it is very, very difficult to manage in every aspect of my job.
"Very difficult to manage this situation, too many players. It was Dele plus other seven. Can they be back to the squad? Of course they can.
"I think it is another brilliant decision to only have seven players on the bench, the only country with that, I would like to understand why," Mourinho added.
"It is a big limitation for coaches because we like to have more options on the bench. I also think it could give us more chance to rest more players to manage the situation which is difficult for the majority of the clubs in England.
"When you have the decision of us playing Sunday 12pm then Tuesday, Thursday and do this for two weeks then anything is possible."
Emmet Gates18 September 2020 12:46
1600427517
BALE TO LAND AT SPURS TRAINING GROUND THIS AFTERNOON
Gareth Bale will land at Spurs' Enfield training ground this afternoon, according to Talksport.
The 31-year-old left Madrid this morning, and is due to sign his season-long loan deal with Tottenham today.
Bale played for Real Madrid for seven years, and won four Champions League titles during his time.
Emmet Gates18 September 2020 12:11
1600426829
REDKNAPP URGES SPURS TO RE-SIGN MODRIC
Former Tottenham boss Harry Redknapp urges his old side to re-sign Luka Modric from Real Madrid, much like they done with Gareth Bale.
Bale is due to fly to London today to seal his return to north London after seven years in Spain.
Redknapp, speaking to Stats Perform News, states that Spurs should go back to the Spanish side and also ask about the possibility of taking the Croatian back to White Hart Lane.
"I'd go and see if I could get Luka Modric back. Take the pair of them, Bale and Modric," he said. "That would be a great coup. Luka is still a fantastic player. That would be amazing.
"I still feel they need somebody there; they've got the forward players, but they need somebody to supply the bullets. That's where someone like Luka Modric can play killer passes, into great movement up front. They lack a player like that."
Emmet Gates18 September 2020 12:00
1600424559
BALE AN IMMENSE TALENT SAYS SHERINGHAM
Gareth Bale is an 'immense talent' and his return to Spurs will only help Harry Kane, says club legend Teddy Sheringham.
The Welsh star is due to sign for the club today on a season-long loan from Real Madrid, and Sheringham believes everyone will benefit from the move.
"Without a doubt. Good players want to play with good players, top players want to play with top players," Sheringham told football.london.
"When [Jurgen] Klinsmann came to Tottenham, I couldn't believe my eyes. It was just 'I'm playing football with Jurgen Klinsmann every day. He is fantastic, this man'.
"Bale will do things in training which Kane will then say 'I can't wait to play on a Saturday with him'.
"This is what football is all about at the top level. It's not all about money, you want to be playing with top players and exciting people who are watching you play football. Simple as that.
"He [Bale] is a player of immense talent, unbelievable talent. If you get the chance to sign him then you have got to.
"Yeah, his best days might be behind him, and injury wise you might worry a little bit. But to have him in your team for 25 out of 45 games in a season, you would be delighted to see the impact he would have.
"I don't think you could pick a player that would come to play at Tottenham at the moment who would have more impact than someone like Gareth Bale at the moment. So I think it would be an absolutely fantastic signing."
Emmet Gates18 September 2020 11:22
1600423911
SPURS WOULD LISTEN TO SERIOUS ALLI OFFERS
Tottenham would reportedly contemplate serious offers for midfielder Dele Alli, according to The Evening Standard.
Speculation has mounted that the 24-year-old may have to move on in light of the club signing Gareth Bale on loan from Real Madrid.
Alli's form has slipped in the last several years, and this has led to speculation that whilst the club don't expect him to leave in this transfer window, they would listen to serious offers should they be presented.
Alli was dropped from the squad for the Europa League qualifier against Bulgarian side Lokomotiv Plovdiv yesterday.
Emmet Gates18 September 2020 11:11
1600421379
LINEKER HAILS SIGNINGS
Former Tottenham striker Gary Lineker has hailed the signings of Gareth Bale and Thiago Alcantara.
Bale is set to return to the Premier League after seven years in Spain, and will arrive on a season-long loan deal, whilst Thiago Alcantara will join Liverpool from Bayern Munich.
Lineker took to Twitter to post his thoughts on the two impending arrivals.
Emmet Gates18 September 2020 10:29
1600420941
BELOTTI NOT A TARGET FOR SPURS
Torino striker Andrea Belotti will not arrive in north London, according to Italian journalist Fabrizio Romano.
Rumours had circulated in recent days around a potential move for the 26-year-old, as Jose Mourinho demands a back-up striker for Harry Kane.
On his latest podcast, Here We Go, Romano gave the latest on the Belotti situation:
Emmet Gates18 September 2020 10:22
1600419727
BUYBACK CLAUSE IN REGUILON DEAL
Real Madrid have the option to call back Sergio Reguilon from Tottenham after having inserted a buyback clause in the deal, states Italian journalist Fabrizio Romano.
The Spanish outfit are selling Reguilon for €30m, but have the option to sign him back for the same amount.
They performed a similar tactic with Alvaro Morata, who was sold to Juventus in the summer of 2014 for €20m, but was brought back to Madrid two years later for €30m.
Emmet Gates18 September 2020 10:02
1600419487
BALE AND REGUILON FLYING TO LONDON
Gareth Bale and Sergio Reguilon are on their way to London to complete their moves to Tottenham, according to Italian journalists Fabrizio Romano.
Bale is returning to north London on a loan deal, whilst Reguilon is arriving in a £27m transfer.
Romano states that the duo's medicals were completed in Madrid.
Emmet Gates18 September 2020 09:58