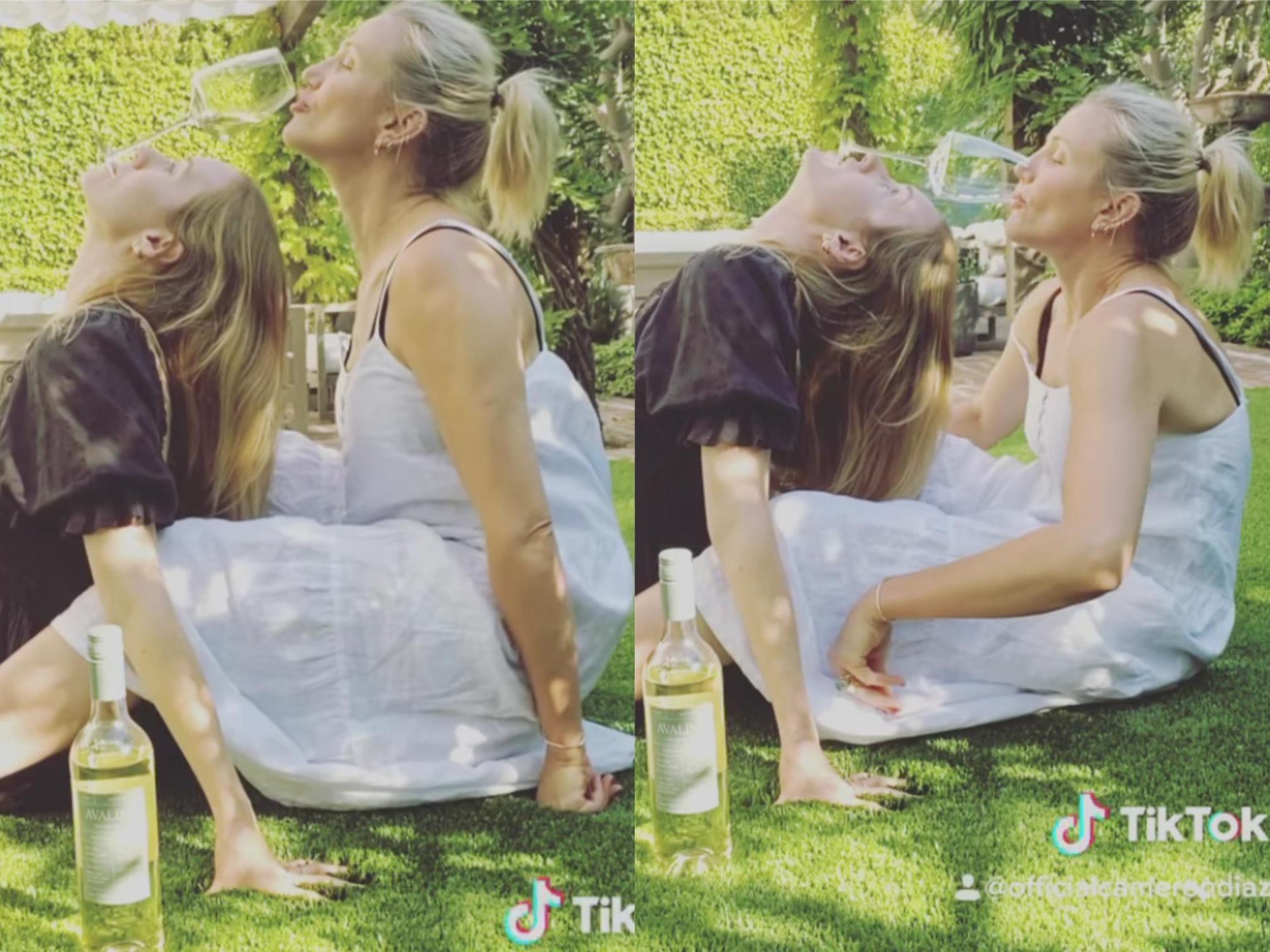 Cameron Diaz has shared her first ever TikTok video to take part in the "wine challenge".
The 47-year-old Charlie's Angels star shared the short clip on Thursday on both TikTok and her Instagram (where she has 7m followers).
The clip shows Diaz at her home in Los Angeles, California, sitting in the garden with her business partner Katherine Power.
The pair are listening to Enya's song "Only Time" and doing the "wine challenge", a trend which started on TikTok during early lockdown and sees people try to drink from a glass balanced between another person's teeth.
Diaz successfully manages to drink from a half-full glass of wine balanced in Power's mouth as she sits in front of her – the pair have recently launched a wine brand together, Avaline.
The wine comes in two flavours – Spanish white and a French rosé – and the women started working together after Diaz's sister-in-law, Nicole Richie, introduced them.
On Wednesday evening, Diaz told the Seth Meyers show how they came up with the name Avaline: "If you find the name first to something, it's easier to kind of, like, you know, go towards that branding so we went through all of the names that we could."
The actor added that many names they wanted had already been claimed. "So we went to baby naming sites and Avaline just looked beautiful, we thought, as written, and then the meaning, which is sensitive, humble and lively.
"It really felt like embodied what we wanted for our brand to sort of, you know, be so we ended up with Avaline,' she explained.
Diaz says the best way to drink her wine is "straight out of the fridge, icy cold" and explained that the pair had chosen to use organic grapes.
"I have drank wine my entire life, and my assumption, is that it was just fermented grapes, why wouldn't it be, and then we learned sort of what possibly could be put into wine, and we realized that we wanted to drink only wines that didn't have those things in it," she says.
Diaz's first child, Raddix, was born in January – shortly before the pandemic and lockdown. She shares her daughter with her husband of five years, Benji Madden.
On 23 July The Holiday star said she was enjoying lockdown because it meant Madden was at home with her and the baby, rather than at work. "We have a lot of gratitude," she said.
"Heaven, it's been heaven, Jimmy," she said of her baby daughter. "Literally every single day, there's just leaps and bounds … and she's not the same baby that she was yesterday.