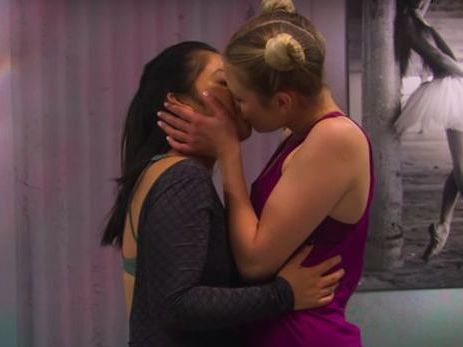 The BBC has defended its decision to air a same-sex kiss on CBBC show The Next Step.
In July, the popular mockumentary-style show, which follows members of a competitive dance studio, aired a kiss between characters Jude (Molly Sanders) and Cleo (Dani Verago), after they performed a routine together.
The moment received widespread praise from fans and critics, who viewed the scene as a landmark moment both for the show and for depictions of LGBTQ+ people on TV.
The BBC has now issued a statement to its website, revealing some people complained about the episode.
"We have received complaints about a storyline involving a same-sex kiss," the statement said.
"The decision to include this moment, as part of a longer storyline throughout series seven which has been tracking the development of a romantic relationship between two of the characters, Jude and Cleo, was taken very carefully and with much consideration, and came about after CBBC and Boatrocker (the production company who make the show) acknowledged that the series could and should do more to reflect the lives of LGBTQ+ young people."
The statement continued: "This is an important part of our mission to make sure that every child feels like they belong, that they are safe, and that they can be who they want to be."
The BBC said that it believed the storyline was handled sensitively and that it was not inappropriate given the average audience of the show.
"CBBC regularly portrays heterosexual young people dating, falling in love, and kissing, and it is an important way of showing children what respectful, kind and loving relationships look like," the statement said.
It also pointed out that same-sex relationships had already been featured in CBBC shows, including 4 O Clock Club, Jamie Johnson, and Marrying Mum and Dad.
In 1994, CBBC series Byker Grove became the first British drama to address the topic of coming out, when character Noddy Fishwick kissed his close friend Gary Hendrix in a cinema.
tinyurl
is.gd
v.gd
v.ht
clck.ru
ulvis.net