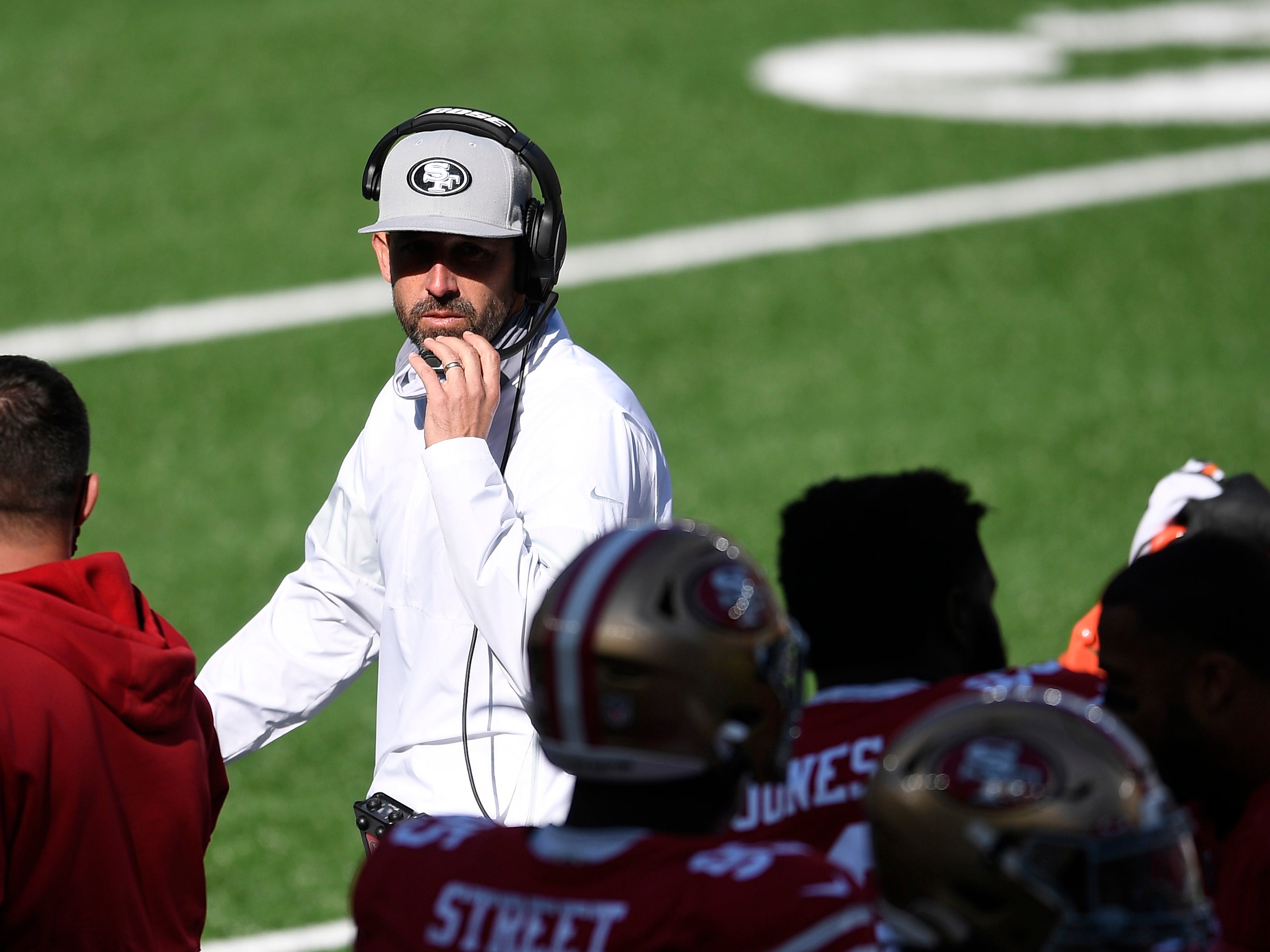 Three NFL coaches have been fined $100,000 (£78,558) each, for not wearing face masks during last weekend's games.
Denver Broncos head coach Vic Fangio, San Francisco 49ers coach Kyle Shanahan, and Seattle Seahawks boss Pete Carroll were each fined $100,00, following their team's respective fixtures.
The coaches' teams were also fined $250,000 (£196,466) each, which brought the total for the fines over the weekend to $1.05m (£825,158), according to ESPN.
Troy Vincent, the NFL's executive vice president of football operations, sent out a memo to all clubs last week that reminded head coaches that they needed to be wearing masks at all times during a game.
The memo was issued last week after several NFL coaches were filmed not wearing face masks during the first games back since the start of the coronavirus pandemic in March.
All members of a club's coaching staff, including the medical team, are also required to wear face masks while on the sideline.
Mr Vincent warned that if coaching personnel failed to adhere to the rule, then sanctions would be issued to individuals and clubs, according to CNN.
"We must remain vigilant and disciplined in following the processes and protocols put in place by not only the league, union and clubs, but also by state and local governments," Mr Vincent wrote in the memo.
He added: "Becoming careless or ignoring face covering and physical distancing requirements will put the 2020 season at risk."
Speaking to USA Today on Monday night, NFL commissioner Roger Goodell said that fines needed to be issued, as he claimed it is "consistent with the message,"
He added: "You can't let up. We've got to consistently do the things that have gotten us to this place and not think, 'OK, things have gone so well, so it's OK now.' It's not. You've got to stay on your toes and we've got to continue to be disciplined."
On Monday, two more head coaches, Las Vegas Raiders head coach Jon Gruden and New Orleans Saints boss Sean Payton, were filmed not wearing face masks during the fixture between their teams.
After the match, Mr Gruden said that he tested positive for Covid-19 back in March, but apologised for breaking the rules, according to The Associated Press.
"I'm doing my best. I've had the virus. OK? I'm doing my best. I'm very sensitive about it," the Raiders head coach said.
He added: "But I'm calling plays. I just want to communicate these situations. I apologise. And if I get fined, I will have to pay the fine. I'm very sensitive about all of that, and I apologise."
The NFL has not yet commented on the images of Mr Gruden or Mr Payton failing to wear face masks throughout Monday's game.