In a summer that was supposed to see the release of A Quiet Place Part II, Antebellum, The New Mutants, Mulan, James Bond: No Time to Die, Black Widow, and Ghostbusters: Afterlife, it feels absurd that a low-budget, cheap-thrills horror The Wretched is the closest thing we have to a box office hit this season.
Owing to pandemic-induced disturbances in the regularly scheduled programming, the film – which stars no notable names – perched at No 1 in the US box office for every weekend in May. As one of the few movies to have topped the box office for five weekends in a row, it ranked alongside Black Panther, Titanic, Avatar and The Sixth Sense. It's fair to say the horror film is punching well above its weight.
It's not alone. The film's success has been the harbinger for a small cadre of similar low-budget horrors – Becky, Followed, Relic – to also take turns wearing the coveted crown. Just this weekend, newly released horror The Rental, the directorial debut from Dave Franco starring Alison Brie, topped the US charts.
Then again, it's not hard to finish first when you're the only one in the race. In response to the pandemic and subsequent cinema closures, every major studio is clambering to push back the release of its big-time movies, hoping to hang tight until the outside world has sorted itself out and they can be delivered into the most profitable environment possible.
A litany of hotly anticipated (as well as "who cares?") films have had their release dates pushed back, before being delayed indefinitely. After having been postponed twice already, last week it was announced that Christopher Nolan's sci-fi thriller Tenet has been put on ice until further notice. Wonder Woman 1984, Artemis Fowl and Death on the Nile are among the other tentpole movies shifted onto the conveyor belt for later and later releases. Russell Crowe's road-rage thriller Unhinged was earmarked to be the first release when cinemas opened, but that too was pushed back three weeks, and then four. It's now scheduled for 31 July – but whether that date will stick is a coin toss.
In the meantime, this tiny group of low-budget, low-stakes horror is doing a good job of filling the gap. And unlike Christopher Nolan's flicks, it's no big deal if you're watching them on your laptop in three lunch-break-length instalments.
In fact, right now it's preferable. In a lockdown life characterised by uncertainty, upended summer holidays, and a rolling ticker tape of statistics nothing short of horrifying itself, we've been reaching for our box-sets: Friends, Seinfeld, The Office, Law & Order. When the outside world took on unknown terrain, the certainty afforded by our television screens (that the bad guy gets caught; Gareth gets pranked and Jerry's girlfriends never last) is a foothold we can count on.
But as the Groundhog Day-ness of lockdown becomes increasingly numbing, the gaping hole left by postponed summer blockbusters is starting to be felt more deeply. Movie-goers are itching for new content – but we're not quite ready to let go of the comfort blanket knowledge that a kooky entrance from Kramer will always be met with a five-second studio laugh.
These little offerings of horror straddle the two needs. Horror is a genre that mostly plays by the rules: the monster, the jump scare, the final girl, the vengeful spirit. So even when we don't know what to expect, we do. Even Relic, the most creatively successful of the bunch, is essentially a haunted house story. It gives us adrenaline-fuelled newness while still coddling our fragile states. Throw in a few jump scares to distract us from the real terror unfolding outside and it's a recipe for a successful (or at least, entertaining) movie.
That's not to say that the success of inexpensive horror movies exists only within a lockdown; as David Sims of The Atlantic pointed out, micro-budget movies like Don't Breathe, Saw and Ouija turn over huge profits in normal circumstances too.
Make no mistake though: even with the added psychological appeal of predictable horror at a time like this, the success of a film like Followed was still far-fetched. It needed the specific conditions produced by an unprecedented pandemic to flourish. In what other climate would a dirt-cheap, vlogger-centric horror movie be able to lay claim to the box office No1 slate in high summer?
The freeze on blockbusters and the closing of cinema doors have given films like this further vital oxygen. Movies like The Wretched are usually released on a limited US theatrical run and available to rent online instantly, but now the pandemic has cultivated a movie ecosystem with the optimal conditions for them to thrive.
Although it's certainly a one-and-done viewing experience, some attention must be paid to The Wretched. After all, it was the movie to kick things off. The film, by brothers Brett and Drew Pierce, is a mishmash of retro seaside nostalgia and occult witchiness – Stevie Nicks attire and a taste for the flesh of children included. The film is an enjoyable if predictable romp through some of the horror genre's favourite tropes. The Wretched knows what it is and isn't afraid to lean into it; when 17-year-old Ben turns to the internet for advice on how to vanquish his adversarial witch, his primary source of information is a website called "Witchopedia". The film is still holding steady at 75 per cent on Rotten Tomatoes.
Becky and Followed have also benefited from lockdown's repercussions. Neither are great. It's likely that without the extenuating circumstances, both would have gone silently into the straight-to-DVD night without so much as a bad review. But here we are, discussing them.
In keeping with the rise of digital-focused films like Unfriended and Searching, Followed is a found-footage horror. Together with his makeshift crew of highschool AV-club enthusiasts, teen vlogger Mike (aka DropTheMike, aka a sign to switch off a movie if ever there was one) head to a decrepit hotel to shoot a special-edition Halloween vlog. Teen drama, glitchy visuals and a pile-up of jump scares which don't quite land ensue. Followed has little going for it besides the appeal of being the new tumbleweed blowing through a deserted movie landscape. The film was No 1 for just one weekend before audiences realised that even in a pandemic, they could do better than this.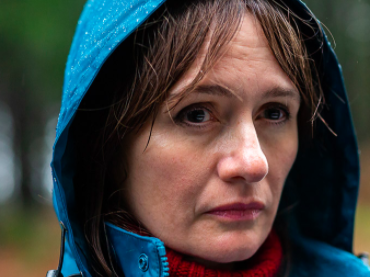 Becky runs along similar faultlines. The ultra-bloody film, starring Kevin James (Paul Blart: Mall Cop) and Joel McHale (Community), has been described as "Die Hard with a teen girl". Said girl is played by Lulu Wilson, who has previously lent her creepy-teen skills to Annabelle: Creation. But even Wilson's spunky performance can't get this movie off the ground – no matter how many bone-crunching, gruesome kills she commits against her family's neo-Nazi attackers at their lakeside vacation home.
In some ways, Relic is a clear-cut haunted-house story: things going bump in the night, shifting shadows observed in the gap between the door and the floorboards, black mould metastasising from a creepy window of coloured glass. The question of "stair bannister or ominous figure?" is never far from the viewer's mind. But the supernatural omens are doled out sparingly. Truly, Relic's terror originates from painfully human origins: the load-bearing weight of familial guilt; Edna's Post-it note reminders to "take pills", "flush" and then more harrowingly, "do not follow it". The word "dementia" is never said aloud but it is there in the film's melancholic, deftly woven allegory.
Natalie Erika James's forbidding horror debut is a slow burner in the best way, an intimate series of vignettes that build pace and power until it offers one of the most arresting climaxes in recent cinema. Relic is about more than jump scares, which is why it enjoyed three consecutive weekends as top dog at the US box office before being bumped by The Rental this past weekend.
Besides Relic, though, these low-budget horror films will likely fade out of existence as soon as audiences get a whiff of Tenet or The New Mutants. But for now, in another absurd twist of events this year, The Wretched can exist on par (on some level at least) with Titanic, and a brilliant indie project such as Relic gets more airtime in the mainstream. Besides, any film news that isn't solely the announcement of another delayed release is good news.