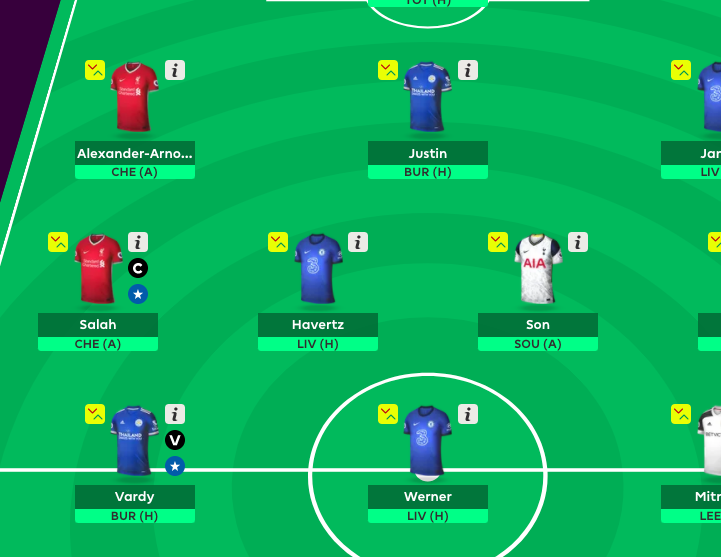 Having roundly failed at Fantasy Premier League last year, I've been on a quest over the past few weeks to figure out how to be a successful FPL manager.
I've read the how-to guides, interviews with past winners, impossibly detailed Twitter threads by some of the best in the business, and I've learned an awful lot.
It turns out it's not just luck or picking your captain on a hunch five minutes before deadline. That's fine of course, but if you want to do really well you need to play a different way.
Serious FPL success involves strategy, planning and research, as well as those solid fundamentals of football knowledge and, yes, a bit of good fortune along the way.
So at the end of my investigation into what makes a successful FPL manager, here are the top 10 takeaways:
1. Captaincy is everything
Of all the many decisions in FPL, from your first selection to transfers to formation, captaincy is the single most important aspect of the game.
You might think that's obvious, but chances are we all still underestimate just how influential it is. Not only is your captain likely to be one of your most expensive players and therefore key to your team, but his points are doubled, so if your selection goes well it can equate to as much as 50% of your gameweek total. Follow Twitter accounts that give insight on players most likely to score on the weekend like @FPL_Salah.
Broadly speaking, if your captaincy pick is among the goals you will climb the overall rankings; if he doesn't, you won't. If you think about only one thing each week, let it be your captain.
2. Don't take needless hits
Let's be honest, the fun part of FPL is transferring in a juicy new signing and casting aside an under-performer. It's easy to get a little carried away though and accrue a few -4 penalty points along the journey.
Just about everyone who achieves FPL success says the same thing: don't take those -4 hits unless you have to. It is almost never profitable, especially if the player you'd like to jettison is likely to play. Fighting that urge to tinker too much with your team is crucial.
3. Decide on players out before players in
A transfer policy built on which in-form striker you want in your team next week rarely works. It's better to look at the team you have and ask yourself where it can be improved. Is there an injured player? Is there a rotation risk? Has someone lost form or got a horrible run of fixtures coming up? Improving your weakest link or links is often the best strategy when it comes to transfers.
If a player is about to go down in value it's going to be hard to get that money back, so if you're planning to sell them at some point anyway, sell before they drop. There are websites out there which predict pretty accurately which prices will go up and down overnight, like this one. Likewise, buying a player before his price rises is a good strategy too and helps increase your overall team value, but reducing losses is more important.
5. Give inbound transfers plenty of thought
You only get 37 transfers, ignoring wildcards, so use them wisely. Generally they need to be long-term picks, not just a good-looking fixture on Saturday. Is this player nailed on to start going forwards? Is he playing in a team who are in form? Does he have decent fixtures for several weeks? If these kind of things are a no, he's probably not worth spending a precious transfer on.
Of course you have to be a little flexible because injuries and suspensions happen all the time, but ideally you would have a plan for when to use your wildcards. Maybe it's early in the season to catch the initial price rises; maybe it's in time for the first double gameweek. Having a plan helps you resist the urge to use it frustratedly after a couple of iffy weeks. Check out @BenCrellin who has the likely blank and double gameweeks.
7. Have a bench boost plan
Your 'free hit' is handy for a blank gameweek while 'triple captain' is also handy for a double, although many FPL enthusiasts agree their value is over-emphasised. 'Bench boost', however, is the most lucrative of the three and is worth saving for the right moment. Use it cleverly on a double gameweek and it's the equivalent of eight additional players to your season, which could be 40+ points.
It's easy to see a certain player is owned by 40% of FPL managers and start worrying you need to have them too. Perhaps you do if they are the ultimate bargain, but generally it can serve you well to have players with low ownership, because when they pick up points you are going to climb the rankings. Ultimately the advice is to ignore ownership percentages and "play your own game".
9. Spot the trend before it starts
This is perhaps the hardest one of all, but it's crucial to getting ahead of the rest. If a player gets a couple of starts in a row and perhaps gets in some shooting positions without taking their chances, the likelihood is most FPL managers won't take much notice, but they could be a points machine waiting to happen. Getting ahead of the curve has two big benefits: one is buying a player before their price skyrockets, the other is simply bagging points that others are missing out on.
It's easy to get embroiled in the rollercoaster ride that is fantasy football and feel a little stressed by the decisions you have to make. Try to remember it's just a game with some luck involved and that ultimately it's meant to be fun. The hardest decisions, like which of your two premium stars to captain, are pretty much 50-50, otherwise they wouldn't be hard decisions, so don't beat yourself up if it all goes pear shaped. There's always next week.