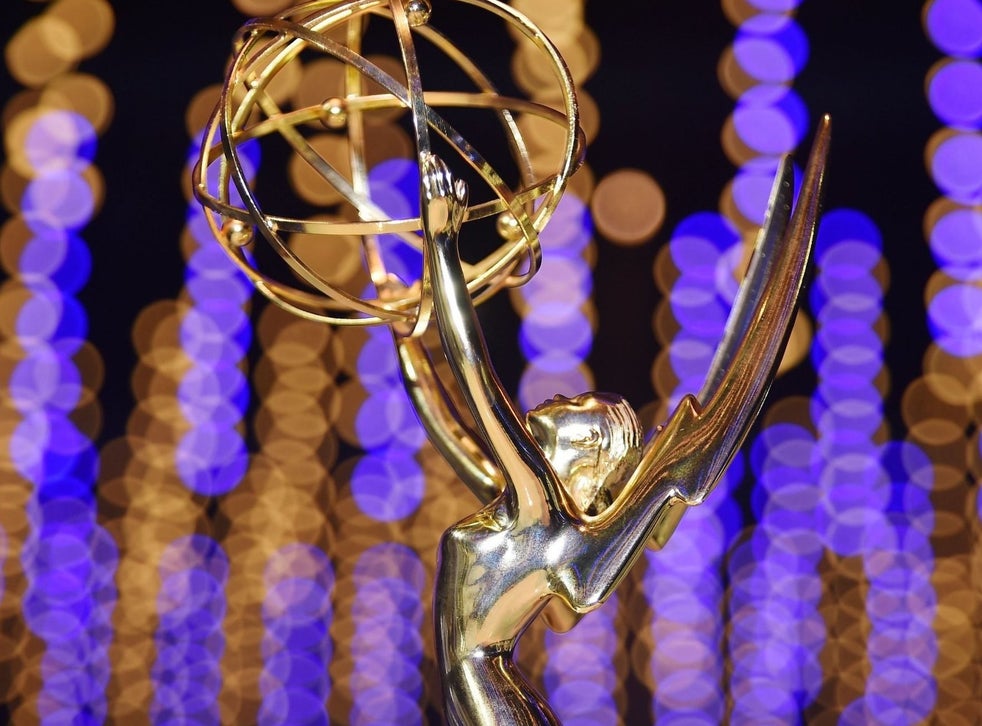 The 2020 Emmys took place on the night between Sunday and Monday, with this year's proceedings taking place virtually for the first time in the award show's 72-year history.
Jimmy Kimmel was back on hosting duties for the third time. The ceremony was partially distanced, with most nominees tuning in remotely with trophies being delivered straight to their homes.
Kimmel, however, hosted from the Staples Centre in Los Angeles – in front of a minimal audience, of course. He was joined by occasional in-person contributors, such as Jennifer Aniston and Tracee Ellis Ross.
Schitt's Creek emerged as the big winner of the night, sweeping the comedy categories. Watchmen and Succession also fared well, with four wins each.
Here are the main talking points from the evening:
Schitt's Creek for the win
Schitt's Creek emerged early on as the star of the evening, with Catherine O'Hara, Eugene Levy, and Dan Levy scoring wins, respectively for Outstanding Lead Actress in a Comedy Series, Outstanding Lead Actor in a Comedy Series, and Outstanding Writing for a Comedy Series. Dan Levy and Andrew Cividino then took Outstanding Directing for a Comedy Series. Dan won Outstanding Supporting Actor in a Comedy Series, Annie Murphy took Outstanding Supporting Actress in a Comedy Series, and the show itself was crowned Outstanding Comedy Series. The Canadian sitcom, co-created by father-son duo Dan and Eugene, just wrapped up after a sixth season, so it was now or never to reward the cast that has brought to life the Rose family over the past five years. Congratulations, Schitt's Creek, on officially making TV history.
The remote format surprisingly works
Putting on a remote ceremony amid the coronavirus pandemic undeniably sounds like a tall order, with a strong potential for technical glitches. But the format is surprisingly efficient – and if you're nosy, it's always a little bit intriguing to see the nominees tuning in from home. The 2020 Emmys ceremony was a mix of in-person and remote interactions: Jimmy Kimmel hosted from an actual stage at the Staples Center in Los Angeles, while most nominees attended via video link. Awards ceremonies can easily drag on, but there was something leaner – but still fun – about the Emmys this year. Kudos to the producers.
Watchmen had a solid night
It wasn't a sweep of Schitt's Creek proportions, but Watchmen, which went into the evening leading the nominations, had a good evening. Regina King won Outstanding Lead Actress in a Limited Series, Damon Lindelof and Cord Jefferson took Outstanding Writing for a Limited Series, Yahya Abdul-Mateen II won Outstanding Supporting Actor in a Limited Series, and Watchmen itself was crowned Outstanding Limited Series. Fans of the show will wish it had scored an extra win or three, but all in all, this is nothing to blush at. And it's a pleasure to see King and Abdul-Mateen's work rewarded in this way.
The satire was not far behind Watchmen in terms of nominations, but it didn't score quite as many wins as it could have – especially for a show that has managed to establish itself as a seminal part of the TV landscape in just two seasons. Jeremy Strong was a deserving winner in the Outstanding Lead Actor in a Drama Series category. Andrij Parekh won Outstanding Directing for a Drama Series, and Jesse Armstrong took Outstanding Writing for a Drama Series. But the series scored the final win of the night by taking Outstanding Drama Series, defeating Better Call Saul, The Crown, The Handmaid's Tale, Killing Eve, The Mandalorian, Ozark, and Stranger Things.
Is it time to mix up the genres?
Currently, the Emmys are being announced by genre – meaning, all the comedy categories together, all the drama categories together, etc. This means that when a series sweeps all categories across its own genre, as Schitt's Creek did for comedy tonight, things can get a smidge… repetitive. Switching it up would keep things fresh, and it would also give the winners of multiple awards time to recover from one win before launching into a new acceptance speech. Just an idea to ponder.
Follow the ceremony as it happened with our live blog:
1600614332
Welcome to The Independent's Emmys 2020 live blog! We'll be keeping you updated with all the action throughout the night, from the winners to the best speeches.
Ellie Harrison20 September 2020 16:05
1600616079
How to watch the awards ceremony live
The three-hour event will be broadcast live on ABC from 8pm ET on Sunday 20 September. You can also tune in via streaming services such as Hulu + Live TV or YouTube TV, both of which offer free trials. For more info, click here.
Ellie Harrison20 September 2020 16:34
1600615370
This year's Emmys serve as a blissful reminder of our recent past, and a bizarre reflection of where we stand today. Due to the pandemic, it will be live streamed from hundreds of different locations, with cameras rigged in the homes of the nominees. Host Jimmy Kimmel will be in-studio, and probably slightly crestfallen – he's already declared that this year's show will likely be "the lowest-rated Emmys of all time".
So it will be weird. It'll also be sort of fascinating. Will Best Actress nominee Jennifer Aniston be sat alone in her kitchen? Will we see stars with their housekeepers just so they can have someone to hug if they win? Will people still be dressing up to sit around in their living room?
It all remains to be seen…
Ellie Harrison20 September 2020 16:14
1600615386
For our predictions of who will win and who should win – click here
Ellie Harrison20 September 2020 16:15
1600639256
We're only two hours away from the start of the ceremony! Last call to get your predictions in…
Clemence Michallon20 September 2020 23:00
1600639828
Over the weekend, Maya Rudolph won the Emmy for Guest Actress in a Comedy Series for her portrayal of Kamala Harris (now sharing the Democratic ticket with Joe Biden) . She will reprise the role during SNL's new season, which kicks off on 3 October.
Clemence Michallon20 September 2020 23:10
1600640366
This year's Best Drama Series category includes several heavy hitters, such as Better Call Saul, The Crown, and Succession. Succession, already an Emmy darling last year, is once again a frontrunner. Better Call Saul, with an acclaimed fifth season, is also a solid bet.
Clemence Michallon20 September 2020 23:19
1600640866
This has been a big year for limited series, with Little Fires Everywhere, Mrs America, Unbelievable, Unorthodox, and Watchmen battling it out in that category. Watchmen is a frontrunner – Star Regina King is an industry darling, and its themes of systemic racism, oppression, and conspiracy have only deepened in the year since it aired. Based on its critical kudos, there's also a chance Unorthodox may sweep in here. This resonant tale of a young and unhappily married Jewish-Orthodox woman fleeing to Berlin was one of the surprise successes of early 2020.
Clemence Michallon20 September 2020 23:27
1600641894
With The Morning Show, Jennifer Aniston scored her first TV Emmy nomination since Friends, in the Best Actress – Drama category. The show itself was met with mixed reviews, but critics liked Aniston's performance. This could be her year. Seeing Aniston take home that trophy would be exciting, nostalgic, and a testament to the hard work she has put in for 16 years to nurture her post-Friends career. But Zendaya is also nominated for her performance in Euphoria, which was so novel, so skillful, and so vulnerable that it turned the HBO show into a phenomenon in its own right. At just 24, the actor has shown an impressive range and an ever-increasing mastery of her craft. Give her an Emmy already.
Clemence Michallon20 September 2020 23:44
1600642630
Curb Your Enthusiasm, Dead to Me, The Good Place, Insecure, The Kominsky Method, The Marvelous Mrs Maisel, Schitt's Creek, and What We Do in the Shadows are all nominated in the Best Comedy category. This feels like one of the more wide-open categories this year, primarily because the vacated Fleabag seemed like such an obvious winner at 2019's ceremony. Nothing really pops here as a result – most of the nominees this year are cult favourites with small if fiercely devoted fanbases. Which means it'll likely be something entirely anonymous that will swoop in and take the trophy. Looking at you, Kominsky Method.
Clemence Michallon20 September 2020 23:57