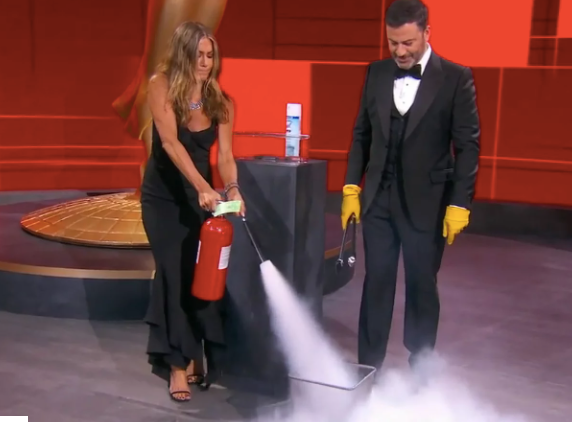 During the socially distanced show, where nominees waited for their awards at home rather than attending in person, Kimmel was joined by Aniston to present the prize for Outstanding Lead Actress in a Comedy Series.
Before announcing that Catherine O'Hara had won for her role in Schitt's Creek, a show that received seven awards in a row, the pair went above and beyond to make sure the envelope containing her name was sanitised by drenching it in disinfectant and setting it on fire.
"That's a little extreme, Jimmy," said Aniston, as the host sprayed down the envelope and set it ablaze.
Aniston then attempted to put out the flames with a fire extinguisher but the contents of the bin that the envelope had been in kept reigniting, leading to a crew member shouting: "Put it out!"
"Oh shoot!" said Aniston as she finally managed to extinguish the flames.
Aniston is nominated for Outstanding Lead Actress in a Drama Series, for her role in The Morning Show.
Follow along with our Emmys live blog here and find out all the nominees here.