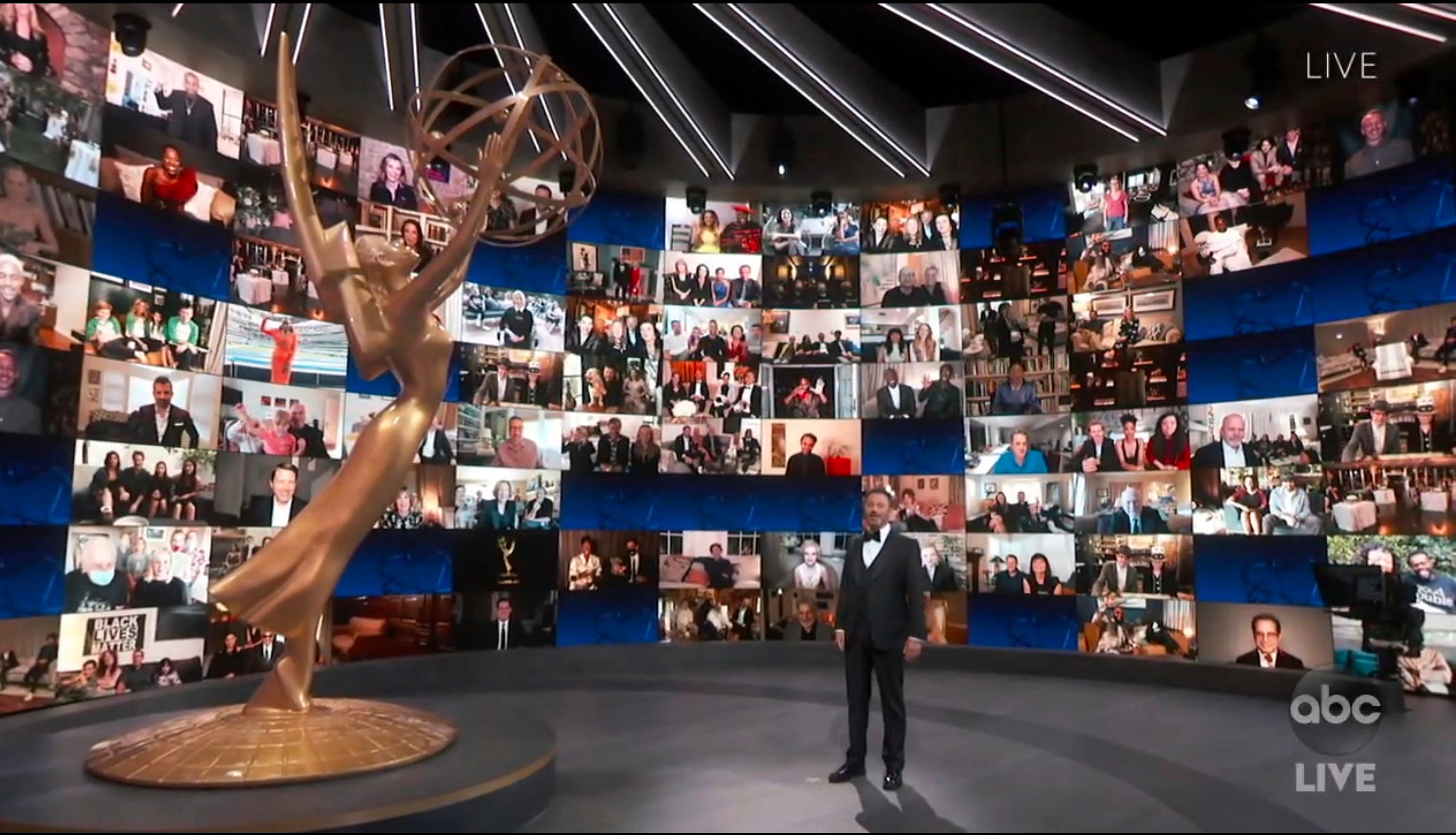 The Emmy Awards hit a historic low in TV viewership with just 6.1 million people tuning into this year's virtual ceremony.
Sunday night's show on ABC was hosted by Jimmy Kimmel at the Staples Center in Los Angeles with a handful of in-person appearances and winners making remote speeches.
The show's poor ratings saw a 13 per cent drop from last year's historic low, when the host-less ceremony on FOX got just 6.1 million viewers, according to Variety.
And this year the 72nd annual awards only scored a 1.2 rating with the key advertising demographic of adults aged between 18 and 49, down from 1.7 in 2019.
The four previous ceremonies were watched by 10.2 million viewers in 2018, 11.4 million viewers in both 2017 and 2016 and 11.9 million viewers in 2015.
The lack of a red carpet, because of Covid-19 restrictions, likely contributed to the low ratings, according to Variety.
Sunday night's TV was dominated by the NFL's close game on NBC between the Seattle Seahawks and New England Patriots, which had 12.2 million viewers.
The show was also up against the NBA playoff basketball game between the Los Angeles Lakers and Denver Nuggets.
Awards shows across the entertainment industry have struggled in recent years, with the Academy Awards hitting a historic low of 23.6 million viewers earlier this year.
The biggest Emmy winner was Schitt's Creek, starring Daniel and Eugene Levy, which swept the comedy categories, including Outstanding Series.
HBO dramas Succession and Watchmen also had a successful night, with Watchmen taking home 11 awards.
One of the night's biggest surprises was former Disney star Zendaya taking home Lead Actress in a Drama for her role in Euphoria, ahead of British stars Jodie Comer and Olivia Colman.
Zendaya, 24, became the youngest winner of the award for her role as Rue on the HBO show, replacing record holder Ms Comer who won last year for Killing Eve at the age of 26.