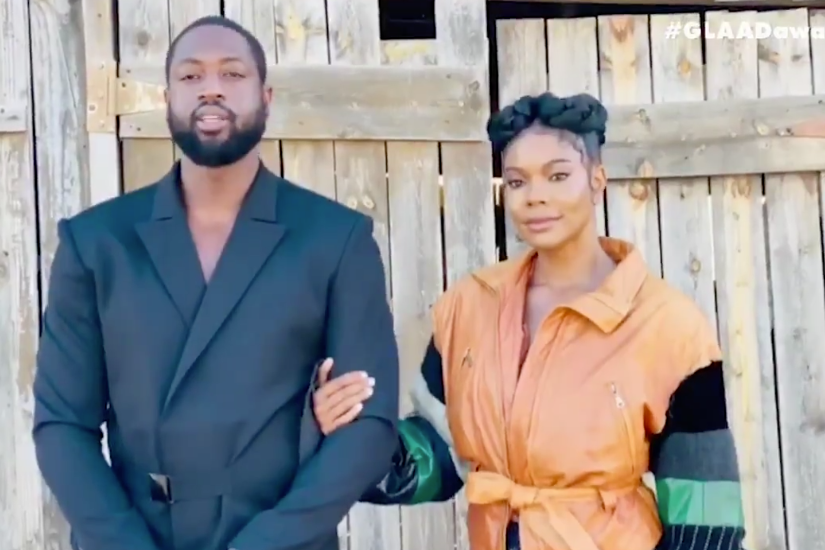 Dwyane Wade and Gabrielle Union have praised their 13-year-old daughter Zaya "for leading us on our journey" and teaching them about the LGBT+ community while presenting an award at the GLAAD Media Awards.
On Thursday, while presenting Pose with the award for Outstanding Drama Series, the former basketball star said: "We stand as allies with the LGBTQ+ community as proud parents of a transgender child. Our daughter Zaya is leading us in our journey, and we're doing all we can to give every one of our kids the ability to live their truth.
"I didn't always understand how to do that, but I want to thank Zaya for teaching me, and GLAAD for elevating the images and messages that accelerate acceptance in every family," the father-of-four continued.
This is not the first time Wade has acknowledged his dedication to learning about the LGBT+ community and what it means to be a parent to a transgender child.
In December, the professional athlete explained on video podcast All The Smoke that he has watched Zaya "become into who she now eventually has come into" and that "for me it's all about nothing changes with my love. Nothing changes with my responsibilities. Only thing I have to do now is get smarter and educate myself more. And that's my job."
Union also took the opportunity Thursday to speak about being a parent to black children, and the importance of black lives, and black trans lives, adding: "That mission means even more to us now as we raise all of our black children.
"Black lives matter and black trans lives matter," she continued. "We are calling on all of our racial justice warriors out there to open your hearts and your minds to the LGBTQ+ community so that we can work together and empower each other and save lives."
The couple's display of support for their daughter comes after Union shared a post about Zaya's decision to come out as transgender in February.
"Meet Zaya," Union wrote alongside a video of Wade and the 13-year-old. "She's compassionate, loving, whip smart and we are so proud of her. It's okay to listen to, love and respect your children exactly as they are. Love and light good people."
In the clip, in which Zaya can be seen having a conversation with her dad, she shared a message of support for others in the LGBT+ community, explaining: "[For those who] are afraid they will be judged, I would say don't even think about that. Just be true to yourself because what's the point of being on this Earth if you're going to try and be someone you're not?
"It's like you're not even living as yourself, which is the dumbest concept to me. Be true and don't really care what the stereotypical way of being you is."