Arsenal came from behind to beat Chelsea in the FA Cup final at Wembley on Saturday.
It took just five minutes for the first goal to arrive, Chelsea's front three combining in close quarters for Christian Pulisic to clip home.
By the half-hour mark Arsenal were level, though, with Pierre-Emerick Aubameyang rifling home a penalty after Cesar Azpilicueta fouled him.
Frank Lampard's side lost two key men to injury, before Aubameyang showed great poise in the box to score his second and put the Gunners ahead.
Here are five things we learned from the FA Cup final.
Pulisic stars and earns his stripes
Five minutes in, Pulisic opened the scoring. He ended the season as Chelsea's best attacker, without question, with a great run of form showcasing his talent, speed and quick thinking.
The opening goal at Wembley was a perfect setting to reinforce that upturn in fortunes, being involved in link-up play, making a good run into the box and brilliantly weaving his way past the last challenge. His finish wasn't bad, either—composed and clinical.
In open play, the American was Chelsea's best outlet, over and over. He's the big danger on the break thanks to his pace, and his dribbling ability is fantastic – he'll have an even bigger role to play next season.
It was unfortunate that his pace and dribbling were both on show at the moment he pulled up injured, with a hamstring strain meaning he'll now face a recovery over whatever Chelsea are given for a summer break.
Inconsistencies
The match was perhaps evidence of the good work done so far, and the lengths they still have to go, for both teams.
If the description given of the match was a mix of a lack control of control, an inability to consistently do things which work for the team and on-and-off periods of playing well and ceding possession easily, onlookers would be hard-pressed to actually select which team was being spoken about.
Chelsea were tremendous to start with, but faded. Arsenal struggled to retain possession, but then bypassed the press brilliantly.
It was a pretty perfect encapsulation of why both Frank Lampard and Mikel Arteta can point to improvements having been made, but also needing a lot more to come next year—which they'll also argue is normal this stage of redevelopment.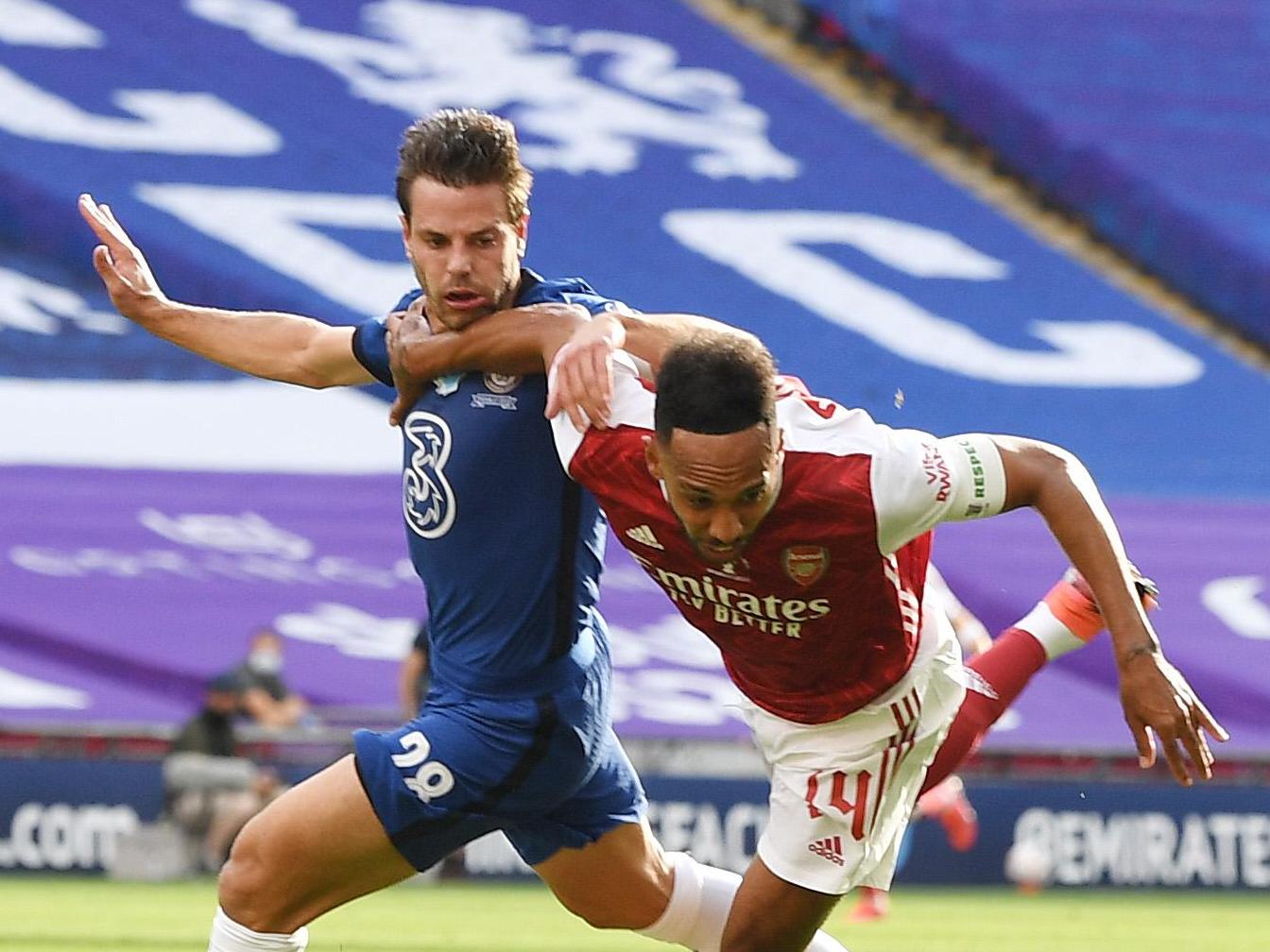 Hamstrung with key men
Captain Cesar Azpilicueta. Best midfielder Mateo Kovacic. Most in-form forward Christian Pulisic.
If Lampard could have picked three players, one from each line of his 3-4-3, to not lose during the FA Cup final, he probably would have picked that exact trio.
Unfortunately for him and Chelsea, all three failed to finish the match; Azpilicueta and Pulisic both succumbing to hamstring injuries and Kovacic harshly sent-off.
"Harshly" is perhaps the incorrect word; "wrongly" would be better-chosen. His second yellow card came for a supposed foul on Granit Xhaka; in fact, with a planted foot on the turf, it was the Swiss international who actually made contact with the top of Kovacic's boot.
The referee completely missed it, gave the decision based on Arsenal's players' reactions, and significantly reduced Chelsea's chances of a comeback.
A note of sorrow, too, for Pedro—suffering a bad shoulder injury in his last minute as a Chelsea player, before a departure to Roma.
Clinical Auba
Two chances, two goals – it's no wonder Arsenal fans see keeping Aubameyang as job No. 1 for this summer.
The Gabonese striker is utterly lethal, still quick of thought and foot, has tremendous movement and a good work ethic, with Arteta having found a good role for him in the side.
He doesn't play in the No. 9 area of the pitch all game long, but he certainly still delivers like one.
Arsenal have a long way to go to get back to the top, but their route will be significantly more difficult if they don't convince Aubameyang to sign a new deal and stay this summer.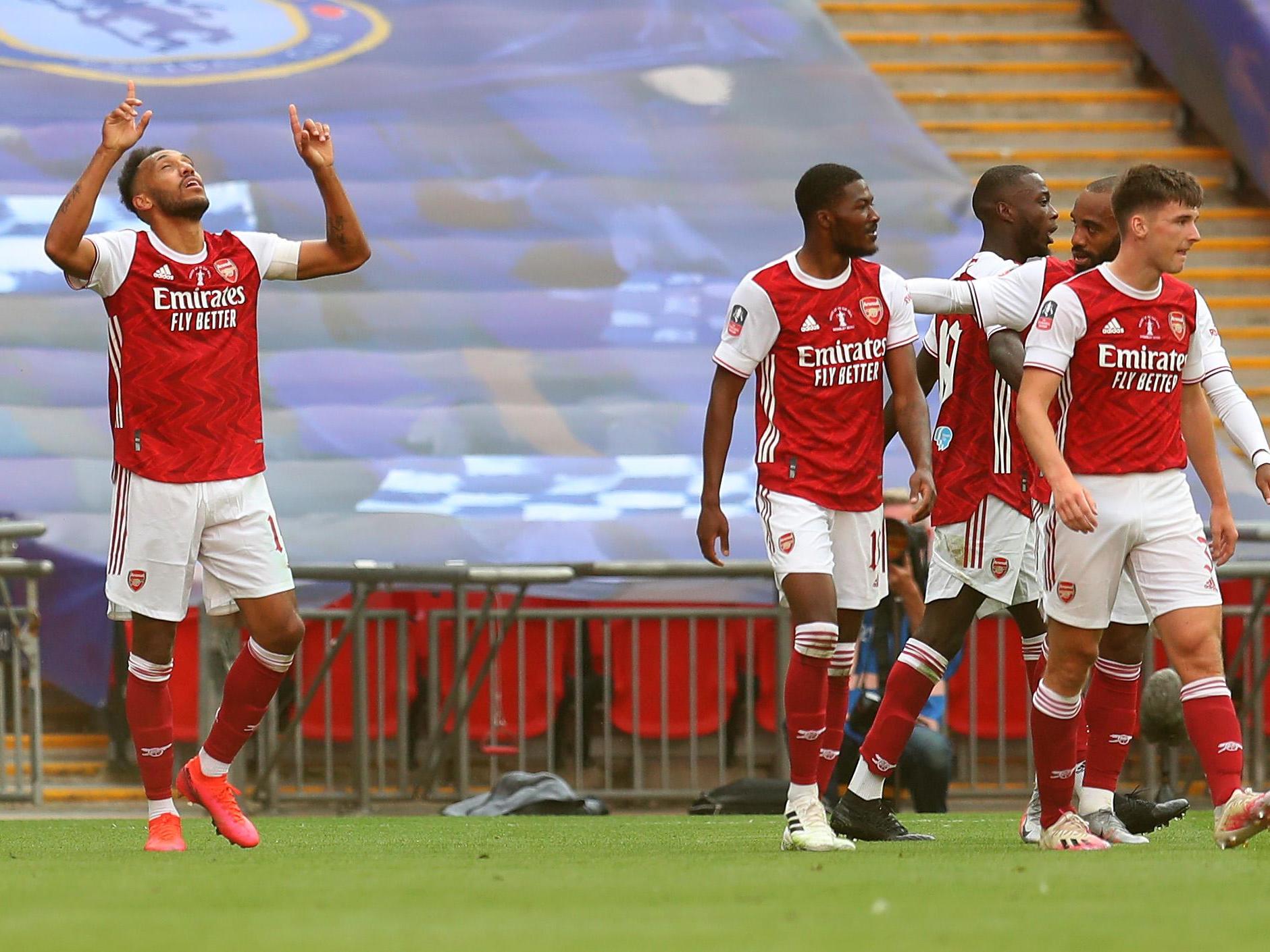 Silverware and Europe
With the cup being handed over, Arsenal didn't just have validation for their progress under Arteta, but also a European spot for 2020/21.
The Gunners take Wolves' spot for the Europa League with this win, giving Arteta more games and room to improve in and greater challenges to test his squad against.
Chelsea had already taken a Champions League spot, of course, but the Gunners would hate to miss out on Europe entirely while all their perceived and historical rivals had earned a spot—including Spurs, of course, on the final day of the season.
A trophy is vindication for Arteta's methods, the team's progress and makes the efforts of beating Manchester City in the semi-finals worthwhile. But, over the longer term, Europa League football again might just be worth an awful lot more to them in trying to scale the heights they did previously.