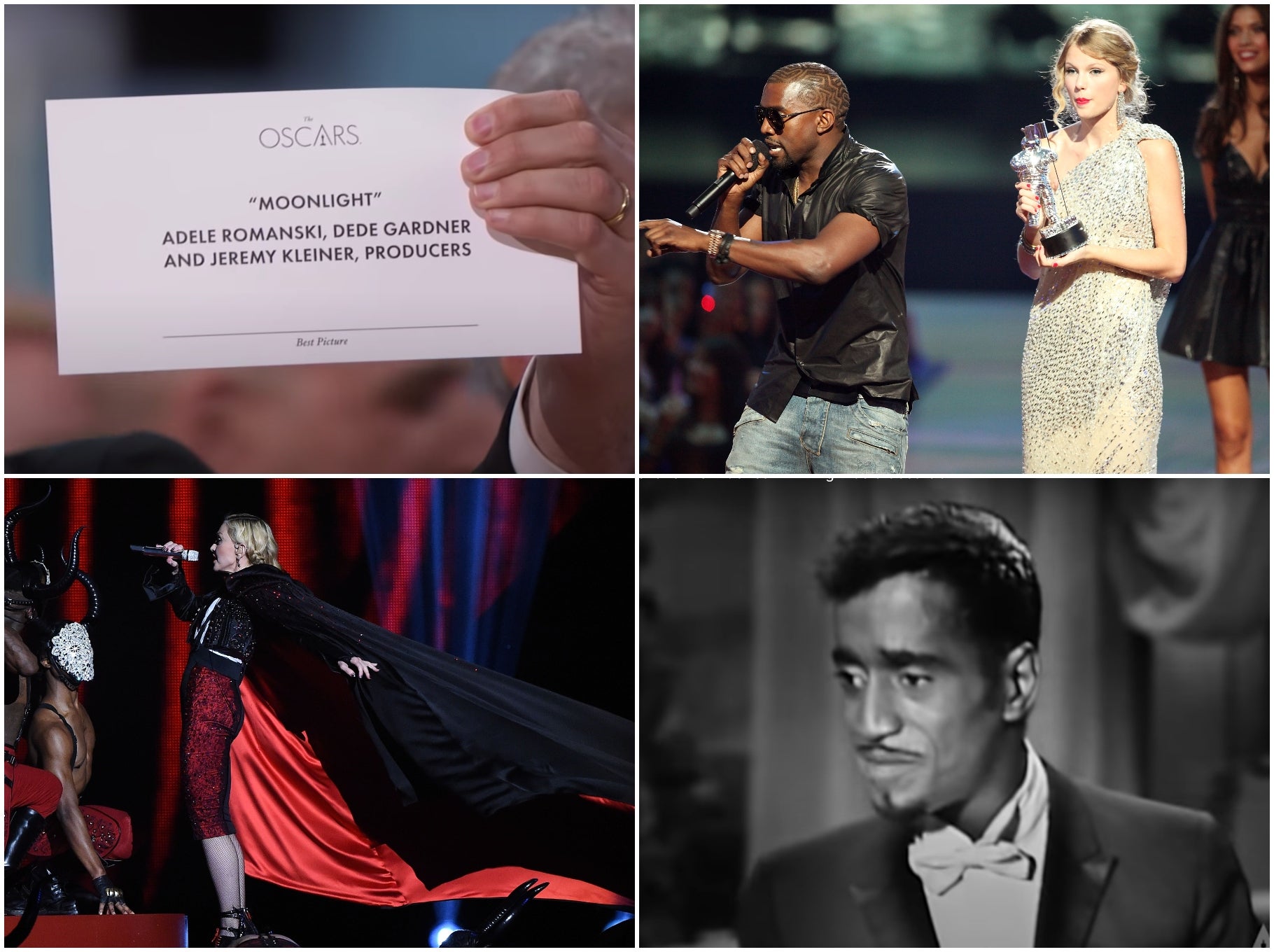 An awkward mishap occurred during Saturday's Creative Art Emmy awards when the wrong winner was announced for a prize.
Ahead of tonight's (20 September) Primetime Emmys (you can read our predictions here), five days of virtual events have taken place, mostly without a hitch.
However, during Saturday night's show, one technical error took place during the award for Outstanding Guest Actor in a Drama Series, which was given to Ron Cephas Jones for his role in This Is Us.
However, while Cephas Jones's name appeared on the screen, the voiceover declared that Jason Bateman was the winner for his guest appearance in The Outsider.
After an advert break, the mistake was rectified as a message appeared on the screen reading: "Our apologies, an incorrect winner has been announced. We're fixing it now. Please don't go away."
Here's some of the other most cringe-inducing award show moments…
John Travolta gets Idina Menzel's name wrong – Academy Awards (2014)
Back in 2014, with Frozen fever at an all-time high, Broadway star Idina Menzel was preparing to perform "Let It Go" at the Oscars. But things got off to a wobbly start after John Travolta introduced the actor as "the wickedly talented, one and only Adele Dazeem", who, erm, doesn't exist. Travolta later claimed that Menzel's name had been written out phonetically for him, which prompted confusion.
Laurence Olivier doesn't announce nominations – Academy Awards (1984)
Back at the 1984 Oscars, legendary stage and screen actor Laurence Olivier was tasked with announcing the award for Best Picture. However, instead of listing the nominees, Olivier simply opened the envelope and declared Amadeus the winner, prompting confusion from the audience. Fortunately, producer Saul Zaentz paid tribute to the four other nominees while accepting the award.
Madonna falls off the stage – Brit Awards (2015)
Madonna falls off stage at Brits
Appearing at the Brit Awards for the first time in 20 years, Madonna's performance at the 2015 Brit Awards ended up being memorable for all the wrong reasons. Dressed as a matador, the singer stood on a podium while wearing a giant cape, which she attempted to untie so the dancers could pull it off her. However, Madonna was unable to get the garment off her in time and was sent flying as they tugged at it in unison. Credit to her though, Madonna kept going for the rest of the performance, proving just what a professional she is.
Tommy Wiseau joins James Franco on stage – Golden Globe Awards (2018)
Tommy Wiseau's The Room may not have been nominated for many awards in its time, but the actor was given the recognition he deserved following the release of biopicThe Disaster Artist in 2017. With star James Franco taking home the award for Best Actor in a Musical or Comedy for his portrayal of Wiseau, Wiseau was invited up on stage, but was pushed away from taking the microphone by Franco, leading to some awkward looks among the audience.
La La Land incorrectly announced as Best Picture winner over Moonlight – Academy Awards (2017)
Oscars 2017: Watch the La La Land-Moonlight Best Picture error in full
This moment from the 2017 Oscars is remembered as one of the most shocking moments in award-show history and it's easy to see why. After Warren Beatty and Faye Dunaway announced that musical La La Land had won the Best Picture gong, the cast and crew piled onto the stage and began their speeches. However, about two minutes in the whispers on stage made it clear something was wrong, with a producer grabbing the mic to say: "There's a mistake. Moonlight, you guys won Best Picture. This is not a joke." It was an emotional rollercoaster for all involved, with host Jimmy Kimmel incredulously asking Beatty: "Warren, what did you do?"
Slowthai fights a fan – NME Awards (2020)
Slowthai brawls with fan after 'misogynist' interaction with Katherine Ryan at NME Awards
During this year's NME Awards, British rapper Slowthai used his speech for the Hero of the Year to make suggestive comments towards host Katherine Ryan. While Ryan sarcastically deflected the advances, things went south pretty quickly after a member of the audience shouted "misogynist" at the rapper. Angrily stating that the fan had "ruined his speech", Slowthai threw his microphone into the audience, only for it to be thrown back with a wine glass. The rapper then threw his own glass into the crowd, jumped off the stage and attempted to fight the fan, with security having to pull him away.
Sammy Davis Jr reads wrong winner – Academy Awards (1964)
Proving that mistakes have been made as long as there have been award shows, this incident from the 1964 Oscars remains one of the biggest mistakes. Musician Sammy Davis Jr was in charge of reading the award for Best Scoring of Music, opening the envelope to announce that John Addison was the winner for Tom Jones. With the crowd murmuring in confusion, Davis realised that he'd been given the wrong envelope and that Addison was nominated in a different category, joking: "Wait until the NAACP hears about this." The mistake was corrected, with André Previn's score for Irma la Douce taking home the award, while Addison won for Best Music Score.
Kanye West crashes Taylor Swift's speech – MTV Video Music Awards (2009)
Kanye West says God told him to crash Taylor Swift's 2009 MTV VMA speech
Kanye West and Taylor Swift's feud may have taken plenty of twists and turns in recent years, but this is where it all began. When a then 19-year-old Swift was announced as the winner for Best Female Video for "You Belong With Me" at the MTV VMA's, West, incensed that Beyoncé's "Single Ladies" hadn't won, took to the stage and shared his thoughts. "Taylor, I'm really happy for you, I'mma let you finish, but Beyoncé had one of the best videos of all time," he said. Swift was reportedly seen crying backstage, with Beyoncé trying to make things right later on, using her win for Video of the Year to invite Swift on stage to "come out and have her moment".
Jennifer Lawrence falls over – Academy Awards (2013)
The birth of Jennifer Lawrence's persona as the internet's relatable queen was when the actor tripped over her gown on her way to receive her Oscar for Silver Linings Playbook in 2013. "You guys are just standing up because you feel bad that I fell and it's really embarrassing," Lawrence said during her acceptance speech. She has since been known to fall during a number of red carpet events.
John Travolta mistakes drag queen Jade Jolie for Taylor Swift – MTV Video Music Awards (2019)
John Travolta mistakes drag queen Jade Jolie for Taylor Swift at MTV VMAs
If there's one thing we should take away from this, it's that John Travolta is probably not the best person to present awards. With all eyes on the Grease actor after the Adele Dazeem mix-up, Travolta was tasked with awarding Taylor Swift the award for Video of the Year at last year's VMAs for "You Need To Calm Down". However, with a large group joining Swift on stage, Travolta clearly got confused and attempted to hand the award to RuPaul's Drag Race contestant Jade Jolie while mistaking her for Swift. Awkward…
Wrong picture used for In Memoriam segment – Academy Awards (2017)
What started as a well-intentioned tribute quickly went wrong in 2017 during the Academy Awards' In Memoriam segment. Tributes were paid to Australian costume designer Janet Patterson, who had worked on films including The Piano and The Portrait of a Lady, but the picture used was one of Jan Chapman, an Australian film producer who was, you've guessed it, very much alive.
tinyurlis.gdv.gdv.htu.nuclck.ruulvis.nettny.im
دانلود کتاب پزشکی