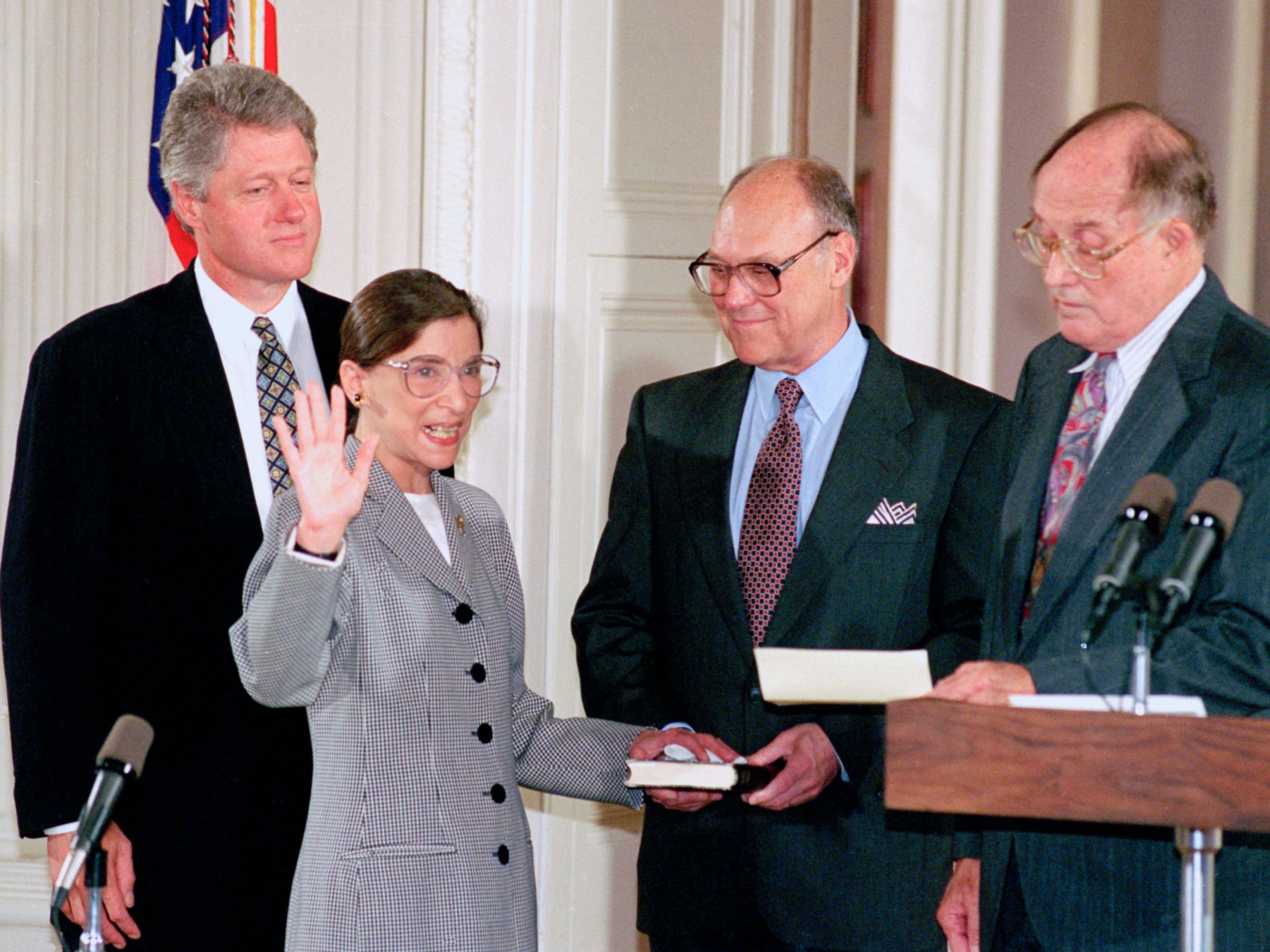 Throughout her impressive career as a lawyer and later, a Supreme Court Justice, Ruth Bader Ginsburg fought tirelessly for women and their right to be equal to men.
In her private life, the 87-year-old, who died Friday 18 September from metastatic pancreatic cancer, upheld the same values, as did her late husband, Martin.
The couple, who were married for 56 years, met as undergraduates at Cornell University. They later married in 1954, and had two children together, all the while progressing in their respective careers.
According to Ginsburg, who spoke often of her husband's support as both a co-parent and as an advocate for her legal career, it was being in a marriage of equals that "made all of the difference".
These are 10 of the Supreme Court Justice's most poignant quotes on marriage and partnership.
"Marty was most unusual. He was the first boy I ever met who cared that I had a brain. And he always thought I was better than I thought I really was." (Aspen Ideas Festival, 2010)
Ginsburg often reflected on the trait that set Martin apart from other men she had met.
"Every now and then it helps to be a little deaf…" (NPR)
According to Ginsburg, her mother-in-law shared the advice with her on her wedding day, telling her it was the key to a happy marriage.
"That advice has stood me in good stead. Not simply in dealing with my marriage, but in dealing with my colleagues," she later said.
"If you have a caring life partner, you help the other person when that person needs it. I had a life partner who thought my work was as important as his, and I think that made all the difference for me." (The Washington Post, 2014)
The late Supreme Court Justice frequently discussed the importance of having a partner that viewed her work as equal.
"My mother told me two things constantly. One was to be a lady, and the other was to be independent. The study of law was unusual for women of my generation. For most girls growing up in the 40s, the most important degree was not your BA, but your MRS." (ACLU)
Ginsburg often opened up about her mother's support, and how integral it was in fighting for a life and career separate from being a wife and mother.
"In the course of a marriage, one accommodates the other. So, for example, when Marty was intent on becoming a partner in a New York law firm in five years, during that time, I was the major caretaker of our home and child. But when I started up the ACLU Women's Rights Project, Marty realised how important that work was." (The Rachel Maddow Show, 2015)
Ginsburg spoke of her husband's willingness to take on household duties such as cooking and childcare so that the focus could be on her own work numerous times throughout their marriage.
"This child has two parents. Please alternate calls." (NPR, 2018)
While raising the couple's two children, Ginsburg found that the school would call her to report their son James' misdoings.
She eventually told the school it was her husband's turn, at which point she says the calls became less frequent because "they were much more reluctant to take a man away from his work than a woman."
"I have had the great good fortune to share life with a partner truly extraordinary for his generation, a man who believed at age 18 when we met, and who believes today, that a woman's work, whether at home or on the job, is as important as a man's." (Supreme Court confirmation hearing)
In 1993, when Ginsburg was nominated to the Supreme Court by President Bill Clinton, she praised her husband during her Supreme Court confirmation hearing.
"Marty coached me through the birth of our son, he was the first reader and critic of articles, speeches and briefs I drafted, and he was at my side constantly, in and out of the hospital, during two long bouts with cancer. And I betray no secret in reporting that, without him, I would not have gained a seat on the Supreme Court." (New York Times, 2016)
She previously credited her husband with securing her nomination, revealing that he acted as her "campaign manager".
"I have had more than a little bit of luck in life, but nothing equals in magnitude my marriage to Martin D Ginsburg. I do not have words adequate to describe my supersmart, exuberant, ever-loving spouse." (New York Times, 2016)
In 2016, Ginsburg reflected on the "luck" she's experienced throughout her life, and her gratitude at finding a partner as supportive as Martin.
"Women will have achieved true equality when men share with them the responsibility of bringing up the next generation." (New York City Bar Association, 2001)
Ginsburg knew that the partnership shared between herself and Martin was not common for the time, and so continued her lifelong fight to ensure that all women would be allowed the same opportunities as men.
Days before his death at the age of 78, Martin also expressed the enduring love and awe he felt for his wife in a letter.
"My dearest Ruth," he wrote, "You are the only person I have loved in my life, setting aside, a bit, parents and kids, and their kids. And I have admired and loved you almost since the day we first met at Cornell...What a treat it has been to watch you progress to the very top of the legal world."
tinyurl
is.gd
v.gd
v.ht
clck.ru
ulvis.net
shrtco.de